Nurse Adopts Patient's Dog After Illness Forced Him to Give Up Pet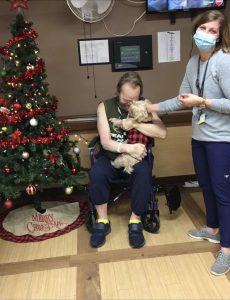 The kindness of a New York nurse has warmed hearts online, after she adopted a patient's puppy when the owner's health forced him to give his pet up to a shelter.
When 60-year-old John Burley was hospitalized with an illness on the day before Thanksgiving, he had no choice but to give his beloved dog Boomer to the Rome Humane Society.
Burley was previously a daily patient at the Adult Day Healthcare program at The Grand Rehabilitation and Nursing at Rome, where nurse Jennifer Smith, 41, works. Upon discovering the heartbreaking separation, Smith knew exactly what she needed to do. She adopted Boomer herself.
"She went right to the Rome Humane Society that day and paid the adoption fee, took him to the vet, and went on a shopping spree for food, crate, toys, and doggy clothes. He is very spoiled," Kimberleigh Hare from The Grand Rehabilitation and Nursing at Rome told Newsweek.
"Jennifer was calling the hospital to speak with John to get updates on his condition and to support him through this tough time. John mentioned to her that he was devastated about losing his best friend, Boomer. It broke her heart to think that Boomer would be adopted by strangers and she couldn't bear to think about what would happen if no one wanted to adopt this sweet 13-year-old dog."
Unsurprisingly, Burley was "so relieved" when he got the call from Smith telling him that Boomer was in her hands. During his time in hospital, Smith called daily to give updates about how Boomer was settling in, with the dog happily sleeping in her daughter's room every night.
When it was finally time to leave hospital, Burley was informed he would need rehabilitation before being able to go home, so without question he chose The Grand Rehabilitation and Nursing at Rome.
"On the day of his hospital discharge, Jennifer dressed Boomer in his best Christmas shirt and brought him to work. John had no idea," recounted Hare.
"Once John was settled in his room, Jennifer and Boomer made their way over to his nursing unit—but I told her to stay out of sight. I asked John if he was feeling up to a surprise visit and he said yes.
"When he saw Jennifer and Boomer come around the corner, he just burst into tears and reached for his pal. There was not a dry eye in the room between residents and staff. He was so happy to see the dog and so thankful to Jennifer for saving him."
Now, Boomer makes daily visits to work with Smith, where he "has become the mascot of the adult day program."
"Boomer loves Jennifer and follows her everywhere! John is loving the visits," added Hare.
"We are so incredibly proud of Jennifer's dedication and selflessness. She provides the best care for our registrants and this is just one example of her outstanding commitment."
(This story originally appeared in Newsweek.)