Nominations Open for the 2024 AANP State Award for Excellence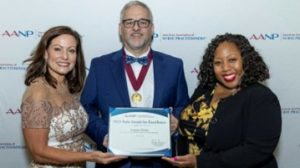 The American Association of Nurse Practitioners® (AANP) has opened nominations for its prestigious State Award for Excellence. Presented annually to nurse practitioners (NPs) and those who advocate for NPs and their patients, one NP and one advocate from each state, district or territory will be honored at the 2024 AANP National Conference in Nashville next June. By recognizing NP excellence — and the power of advocacy to positively transform health care delivery — AANP increases awareness of the many benefits associated with high-quality, NP-delivered care.
Established in 1991 to highlight outstanding clinical quality, the NP State Award for Excellence was presented to 51 remarkable NPs in 2023. The contributions made by these NPs are representative of the lifesaving care provided by more than 355,000 NPs in over 1 billion patient visits each year.
Dozens of Advocate State Award for Excellence recipients were also honored in 2023 for their work to strengthen policy and practice. Established in 1993, this award is presented to visionary leaders who advocate for increased health care access and advance the NP role. Past recipients include physicians, legislators and educators. NPs are also eligible for the advocate award for non-clinical practice initiatives related to leadership, precepting, policy, politics, research, education or community affairs.
AANP members are encouraged to nominate a deserving NP or advocate before the Sept. 11 deadline, and self-nominations are welcomed. Membership is required to submit a nomination; however, nominees for these awards are not required to be AANP members, and nominees cannot be current AANP elected leaders.
To learn more, click here.