Michigan Nurse Killed While Helping Patient in Middle of the Road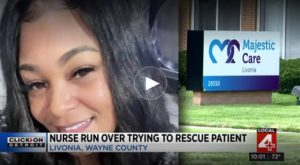 A Michigan nurse was struck by a car and killed this weekend while trying to help a patient who had walked out of a nursing home and laid down in the middle of a busy road.
Pebbles Latrice Lockhart, 42, of Plymouth, was a nurse at Majestic Care on 5 Mile Road in Livonia. Around 9:40 p.m. Sunday, July 23, she ran outside to help an elderly patient who exited the home.
Local 4 spoke to a resident who lives nearby and didn't want to be identified. He said he saw what happened when the patient ran out.
"She was lying on 5 Mile, just saying some random, crazy stuff," he said.
Lockhart and other nurses went into the road to try to help the patient. They brought out a wheelchair and managed to get the patient to sit down.
But traffic on 5 Mile Road wasn't stopping. Police said Lockhart was struck by an 80-year-old driver who swerved to avoid crashing into the patient in the wheelchair.
"A car came, ended up hitting one of the employees," the witness said. "It was a bad accident, for sure. She was hit at a decent speed. The car was probably going at least 45 — the speed limit's 45 down here."
Lockhart was taken to a nearby hospital, where she died from her injuries.
The driver who struck the nurse also crashed into two other cars, according to authorities. Police did not say whether anyone else was injured.
Officials from Majestic Care said they are cooperating with the investigation.
(This story originally appeared on Click on Detroit (Channel 4).)