NJSNA Improves Member Value With More Benefits, Lower Pricing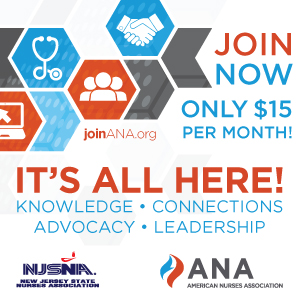 TRENTON, N.J.—March 1, 2017— The New Jersey State Nurses Association (NJSNA) announced today it will offer joint membership with the American Nurses Association (ANA) at a 46 percent price reduction to make the organizations' benefits more accessible to New Jersey's 125,000 registered nurses.
"Reducing the cost of membership will remove the largest barrier to entry for so many nurses," said Dr. Benjamin Evans, DD, DNP, RN, APN, PHMCNS-BC, president of NJSNA. "I remember being that young nurse starting out and memberships like ours seemed out of reach. With the new price, it works out to less than $15 per month for new members, which is much more accessible."
Registered nurses (RN) and advanced practice nurses (APN) are welcome to join NJSNA, which is an affiliate of ANA. With the new pricing structure, new members who join after March 1 will pay the lower dues of just $15/month or $174/year. To join, please visit NJSNA.org.
"Nurses need to be united and part of a strong professional organization that speaks for the issues impacting nursing practice at all levels, especially now in the turbulence and uncertainty of the current health care challenges," Evans said. "NJSNA is that single, united voice of all registered nurses in New Jersey. Being a member of NJSNA for more than 20 years has helped me grow professionally through connections with nurse leaders, education and the ability to refine my leadership skills."
There are many benefits to joining NJSNA and ANA, including educational programming, an annual conference, networking, scholarships and research grants. NJSNA also works with elected officials and the state government to ensure the health care of all New Jersey residents.
"NJSNA is protecting the practice of nursing," said Judith Schmidt, CEO of NJSNA. "We monitor any kind of legislation or change in regulations that affect the practice of nursing in New Jersey and advocate in the best interests of nurses and the patients of New Jersey."
NJSNA also supports the state by recommending members to sit on task forces and committees to help guide the Department of Health and Senior Services and assist with the health care of New Jersey residents. Members also head to Washington, D.C. annually to advocate for nurses, nursing and health care on Capitol Hill alongside other RNs as part of ANA's Lobby Day.
"We also founded and launched the Recovery and Monitoring Program (RAMP) for nurses. This helps more than 500 nurses per month in a confidential, voluntary program that works with the Board of Nursing, employers and nurses to ensure public safety, safe practice and health," added Schmidt. "It encourages health professionals to seek a recovery program before their impairment harms a patient or damages their careers through a disciplinary action."
"Nurses receive all these benefits and more," said Schmidt.
Additionally, when you join NJSNA and ANA, you can:
Learn what you need with online access to learning resources on important issues impacting nursing (one FREE Navigate Nursing webinar every month — a $385 value).
Stay current on issues and news affecting nurses through free members-only publications, including: American Nurse Today, ANA SmartBrief, and OJIN: The Online Journal of Issues in Nursing.
Get advice and support from nurses in your state and across the country.
Use member discounts on our extensive library of online CE modules to stay current on nursing topics and earn contact hours.
Save $125 on ANCC initial specialty certification and $100 on certification renewal as a member.
Improve your clinical, business, and leadership skills through educational programs.
Add your voice to advocacy efforts at the state and national levels.
Protect yourself with liability, life, and auto insurance
All current NJSNA and ANA members will convert over to become Premier Members after March 1.  Premier Members will continue at the higher dues rate with unique access to expanded bonus benefits.  Premier Members will receive a special announcement kit in March confirming their membership status along with details on their bonus benefits and how to access them through their MyANA account.
With the new pricing structure, NJSNA joins 24 other State Nurses Associations across the country in piloting the membership program with ANA.
To learn more about NJSNA and join, visit www.NJSNA.org.
###
About NJSNA
NJSNA, which was established in 1901, is a constituent member of the American Nurses Association. The New Jersey State Nurses Association (NJSNA) represents the interests of 125,000 registered nurses and advanced practice nurses as an advocate for the nursing profession. NJSNA's lobbying arm continues to protect the nursing profession through legislative victories. Its nonprofit foundation, Institute for Nursing, helps nurses further their careers by providing continuing education, scholarships and research grants in addition to invaluable networking opportunities. For more information, nurses can visit www.njsna.org or contact NJSNA at njsna@njsna.org or (609) 883-5335.