NJSNA Addresses Opioid Addiction, Healthy Workplaces for Nurses
115th Annual Convention Set for Oct. 10-12 at Bally's in Atlantic City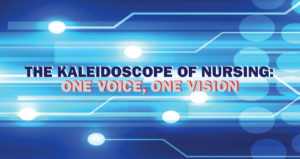 TRENTON, N.J.—SEPT. 20, 2017—The New Jersey State Nurses Association (NJSNA) and the Institute for Nursing (IFN) will discuss opioid addition and strategies for creating healthy workplaces for nurses at their 115th Annual Convention on Oct. 10-12 at Bally's Atlantic City.
"The diversity of nursing roles allows us to make a difference in the world," said Benjamin Evans, DD, DNP, APN, president of NJSNA.  "Together, we can meet the demands of health care with a common goal that enhances the future of nursing. Every nurse has the opportunity to make a positive impact on the profession through day-to-day advocacy. Our convention "The Kaleidoscope of Nursing: One Voice, One Vision," will unite the nurses of New Jersey with educational sessions focusing on opioid addiction, the future of nursing and networking with a goal to improve nursing and patient care throughout New Jersey. Nurses are excited to be key leaders in the crucial design and implementation for health care in the future."
Nurses can earn up to 15.25 contact hours by attending and participating in the educational sessions. Registration is open and can be done at https://njsna.org/2017-njsnaifn-convention/.
Convention highlights include:
Christine Filippone, DNP, MSN, BSN, ANP, CIC, will kick off the convention with a special evening education program that is open to all attendees as part of NJSNA's partnership with the CDC. Dr. Filippone is director of epidemiology/infection control and an adult nurse practitioner at Community Medical Center and the Ocean County Health Department. She holds a Doctorate of Nursing Practice, a Master's in Nursing and is currently completing her PhD in nursing education and leadership.
Dennis Sherrod, EdD, RN, professor and Forsyth Medical Center Endowed Chair of Recruitment & Retention—the convention's keynote speaker—will discuss how to create a healthy nurse workplace on Wednesday morning. Sherrod will identify these strategies to assist nurses in creating a healthy work place.
Benjamin Evans, DD, DNP, APN—NJSNA's first male president—will provide an update on current issues at NJSNA's opening business meeting on Wednesday, followed by a host of educational activities that will cover the importance of vaccinations, how nursing education is evolving in its articulation and methodologies of pedagogy, as well as a Board of Nursing update.
William Lorman, JD, PhD, MSN, PMHNP-BC, CARN-AP, will speak on opioid addictions Thursday morning. The current opioid epidemic has become the worst drug crisis in American history, becoming one of the major causes of death. Dr. Lorman will discuss the risk factors for opioid addiction and identify treatment strategies for opioid use.
Andrew Appello, MSOM, L.Ac., RH (AHG), BSN, RN, will discuss how nurses must be able to communicate with LGBT clients in a way that will remove conscious and unconscious bias and demonstrate patient-centered, culturally competent care.
Leo-Felix M. Jurado, PhD, RN, NE-BC, APN, CNE, FAAN, will identify the barriers in attracting and retaining men in the nursing profession.
Martin Manno, PhD, RN, ACNS-BC, will speak on the lack of knowledge regarding role transition of new registered nurses.
There will also be Zumba sessions as part of the Healthy Nurse Healthy Nation initiative, poster sessions, as well as an exhibit hall, which will be open for attendees to explore.
Registration is open for the 2017 NJSNA/IFN Convention, "The Kaleidoscope of Nursing: One Voice, One Vision," at https://njsna.org/2017-njsnaifn-convention/.
###
About NJSNA
NJSNA, which was established in 1901, is a constituent member of the American Nurses Association.  The New Jersey State Nurses Association (NJSNA) represents the interests of 125,000 registered nurses and advanced practice nurses as an advocate for the nursing profession. NJSNA's lobbying arm continues to protect the nursing profession through legislative victories. Its nonprofit foundation, Institute for Nursing, helps nurses further their careers by providing continuing education, scholarships and research grants in addition to invaluable networking opportunities. For more information, nurses can visit njsna.org or contact NJSNA at njsna@njsna.org or (609) 883-5335.