NJ Nurses Say They're Overworked, Demand 'Safe Staffing' Law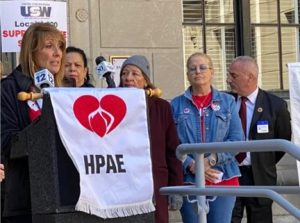 NEW JERSEY — It's no secret that tons of New Jersey nurses left the profession during the coronavirus pandemic, pushed to the breaking point by stressful conditions and overwork. But according to a coalition of nurses who are demanding "safe staffing ratios" at hospitals across the state, the problem began long before the COVID crisis – and it will endure afterwards, too.
Just ask Doreen Jones, a registered nurse at the Jersey City Medical Center.
"There will be a time when you will be in that bed – or I will be in that bed – and we wish that we have the nursing staff to take care of us," said Jones, who has worked taking care of patients for more than 31 years.
Jones was among the nurses and health care employees who joined the Health Professionals and Allied Employees (HPAE) union at a rally in Trenton to push for S-304 on Monday. If it becomes law, the bill would create minimum nursing staffing levels in state hospitals, ambulatory surgical facilities, developmental centers and psychiatric hospitals.
A companion bill has been introduced in the state Assembly. Neither bill has seen a full vote.
Minimum nurse-to-patient ratios would vary depending on the type of unit, and would range from one registered professional nurse for every five patients in a behavioral health or psychiatric or a medical/surgical unit, to one registered professional nurse for every patient under anesthesia in an operating room.
The law wouldn't decrease any existing nurse-to-patient staffing ratios that are already in effect. The state commissioner of health would be able to waive the requirements for any hospital or facility that they determine is in "financial distress."
The law would be enforced by periodic inspections and responses to complaints.
As part of the campaign to pass the bill, HPAE released a position paper dubbed "Code Red: Understaffed. Overworked. Unsafe for Everyone." Read it here.
According to the HPAE, current staffing regulations in New Jersey – which offer coverage only in ICU or critical care units – have not been updated since 1987. And over the past few decades, more and more nurses are getting sick of the job they once loved.
A study done in 2022 showed that nearly a third of nurses have left their jobs at hospitals in the past three years. Of those remaining, about three in four have recently considered leaving the profession.
The number one reason behind the workplace exodus? "Poor staffing," the report says. Read More: NJ Nurses Are Quitting In Droves, Union Says – Here's Why
New Jersey law requires hospitals to compile and report information on the number of staff involved in direct patient care. See local data here.
During the pandemic, New Jersey's nurses were called "heroes" and thrown parades, getting a rush of positivity and support in the process. But according to HPAE Local 5105 President Sheryl Mount – a registered nurse at Virtua Memorial Hospital in Mount Holly – the people that Garden State residents were praising just a few years ago aren't heroes … they just want to do their jobs safely.
"We have asked for solutions, but the situation has only worsened and become a crisis that threatens our very health system," Mount said. "You have to wonder how long it will be before the system is so broken that it just won't be there for the people who need it."
The coalition plans to hold another rally in Trenton to support the bill on May 11.
"Our health care system is in crisis as we continue to lose dedicated professionals to burnout and stress," HPAE President Debbie White said.
"For years we have been talking about safe staffing because we have witnessed firsthand the deliberate understaffing of our healthcare institutions by hospital and health care corporations that cut staffing down to its lowest number to maximize profits," said White, a registered nurse.
Many of the nurses who left the field before the pandemic did so because the work environment was "untenable," White said.
"Patients are suffering," White emphasized, also pushing for more recruitment and better retention of nurses. "We must stop the bleeding."
Other support for the bill and the campaign came from:
State Sen. Sen. Linda Greenstein – "Our health care workers have been on the front lines of an unprecedented global pandemic. Measures like this safe staffing bill are needed to improve working conditions at our hospitals, to ensure that staff is well-equipped to provide exceptional patient care, and ultimately, to save lives. I'm proud to be a sponsor of this bill and hope to see my colleagues support its movement through the Legislature."
Assemblywoman Angelica Jimenez – "Establishing minimum registered professional nurse staffing standards plays an important role in the delivery of safe, quality care to patients. It is crucial that health care institutions maintain safe staffing levels to ensure patient safety and satisfaction, reduce health care costs, and improve nurse working conditions. By doing this, patients can recover from their ailments with comfort, satisfaction, and ease, and nurses can approach their work with the ease they desire."
New Jersey AFL-CIO President Charlie Wowkanech – "Our nurses are the backbone of our health care system. But current staffing levels are threatening our health care system's ability to provide the level of care we need, and it is taking its toll on already strained health care workers. Unfortunately, some hospitals are opposed to improving staffing ratios because they are choosing to prioritize profits, even as we reach a post-pandemic health care staffing crisis point. S-304 would establish the fair patient-to-nurse ratios we need to improve our health care system."
JNESO District Council 1 IUOE-AFL-CIO President Elfrieda Johnson – "We need this bill because, safe staffing saves lives and increases job satisfaction. When we are working, we try to do our best to provide optimal care to ensure patient satisfaction. When we don't have adequate nurse-to-patient ratios it can cause patient care to be compromised leading to job burnout and, in some cases, resulting in nurses leaving their career earlier than planned."
JNESO District Council 1 IUOE-AFL-CIO Vice President of the Board Barbara Jones – "There are already staffing ratios in areas like the ICU and Labor and Delivery, so there is no reason why ratios shouldn't be mandated to help the nurses in other units like Med-Surg and the ER that are overwhelmed and struggling to give the best care because they don't have ratios in place. That is why we need safe staffing ratios, once they are mandated they have to be followed which puts the needs of the patients – and nurses – first."
Lisa Ruiz, registered nurse at the Shore Nurses Union – "The quality of care that patients receive when understaffed can be unsafe. We demand safe staffing ratios for every patient. Approximately, two thirds of the nurses in the country are projected to leave the profession in the next two years. Safe staffing ratios will help to retain experienced RNs and recruit new RNs to the bedside."
Judy Danella, registered nurse with USW Local 4-200 – "Unfortunately, I'm a dying breed because no one is staying at the bedside for 30 years anymore. We need safe staffing for our patients and for caregivers. You can't have a nurse in the emergency room with nine to 13 to 15 patients and expect that patient to get the care that they need."
(This story originally appeared in Patch.com.)