Newark St. Patrick's Day Parade Honors NJSNA President-Elect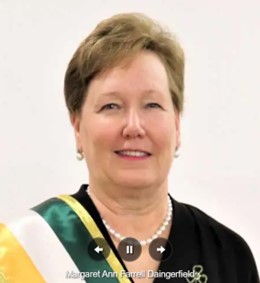 The committee for the Newark St. Patrick's Day Parade, one of New Jersey's oldest parades, has announced the honorees for its 2023 parade, scheduled for Friday, March 10.
James P. Fallon has been elected grand marshal, and Margaret Ann Farrell Daingerfield, the Rev. Paul Donohue and Richard Smith will serve as deputy grand marshals.
"The committee is thrilled to be led in our 88th anniversary parade by these outstanding individuals with strong ties to the organization," committee Chairperson Susan H. Gartland said. "We are especially excited to have three of the honorees who are natives of our great city and the fourth, the pastor of the historically significant St. Lucy's Church."
Grandstand ceremonies for the parade will begin at noon at 100 Mulberry St. The parade will step off at 1 p.m. and conclude at St. Patrick's Pro-Cathedral, 91 Washington St. in Newark. For more information, contact Gartland at 973-464-1242.
Fallon is the director of the department of research at St. Michael's Medical Center in Newark. He received his Bachelor of Arts from Saint Anselm College in Manchester, N.H., and Master of Science from Walden University in Minneapolis, Minn. Born in Newark and raised in Maplewood, Fallon traces his Irish roots to County Roscommon, Ireland. His parents, James and Sally, introduced him to all things Irish. He has supported Irish American culture throughout his life. He was president of the Ancient Order of Hibernians Division 9 in 2013 and ad book chairperson of the state AOH organization. He has held many offices within the Order of the Friendly Sons of the Shillelagh–Essex Division in West Orange and led the group as president in 2020. He is a member of the West Orange Elks Club and Tri-County Golf Club, where he serves as handicap chairperson. Fallon has been published professionally, authoring articles on HIV and hepatitis C. He currently resides in Bloomfield.
Daingerfield was born and raised in the Vailsburg section of Newark and attended Sacred Heart Elementary School. Her paternal grandparents emigrated from Tuam, County Galway, Ireland, and her parents, Peggy and Joseph Farrell, were active in the Essex County Irish American community. Daingerfield and her four brothers were regular participants in the parade, marching annually. She graduated from Bayley-Ellard High School, received a Bachelor of Science in nursing with honors from Seton Hall University, a Master of Arts in nursing education from New York University and a Doctor of Education at Rutgers University. She began her nursing career at St. Barnabas Medical Center and St. Peter's University Medical Center, and later joined the faculty of Felician University, where she still serves on the school's advisory board and acts as a curriculum consultant. A member of many professional boards, Daingerfield recently became president-elect of the New Jersey State Nurses Association. Daingerfield and her husband of 42 years, Richard, have four children and three grandchildren. They reside in Chatham.
Donohue is the pastor of St. Lucy's Roman Catholic Church in Newark. Born and raised in the Great Lakes region near Cleveland, he was the third of four sons of immigrants. His mother came from Dunmanway, County Cork, Ireland, and his father's family from Tralee, County Kerry, Ireland. His parents gave him a strong faith and feel for his ancestry. Donohue began his education for the ministry in the minor seminary of the Comboni Missionaries in Cincinnati. In 1966 he made his first vows and entered the Comboni scholasticate. In 1969, he went to the Pontifical Gregorian University in Rome, Italy, to study theology. At age 26 he made his first trip to Africa and did his pastoral service as a transitory deacon. In March 1975, he was ordained a priest and returned to Uganda to continue his missionary work.
In 1979, Donohue was transferred back to America, where he worked on student formation and vocation for the next 10 years. He then returned to Kitgum, Uganda, as administrator of Our Lady of Lourdes Catholic Parish. Donohue spoke for the rights of the Acholi people and represented them in defense of their right to Catholic education. He was expelled from the country over the objections of the Vatican. He then became a writer for New People Media Centre in Nairobi, Kenya, and continued his education, receiving a graduate degree from Marquette University in Milwaukee, Wisc.
Smith grew up in the Ironbound section of Newark and attended the Academy of St. Benedict in Newark. He is an alumnus of East Side High School and Montclair State University. He and his brother, Ed, trace their roots back to County Cavan, Ireland, and fondly remember their childhood days of participating in the St Patrick's Day Parade. Smith joined the Essex County Sheriff's Office after graduating from the police academy in 1988. He progressed steadily in his career, being promoted through the ranks from officer to captain. He retired in 2017. During his career, Smith served as a state delegate of the Fraternal Order of Police. He is active in many Irish American organizations, including the Ironbound Irish-American Association, having served as its president, and the Essex County Emerald Society Pipes and Drums; this group participates in many parades throughout the state, but its purpose is to provide honors and service to any fallen law enforcement officer or firefighter. Smith is the proud father of two daughters, Emily and Catherine, and resides in Old Bridge.
(This story originally appeared in Essex News Daily.)