New Jersey RN Tests Positive for Coronavirus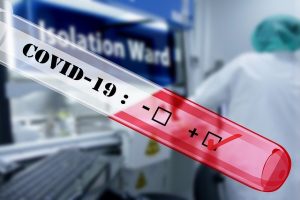 One New Jersey nurse has been dealing with the physical and emotional fallout of novel coronavirus, or COVID-19. She told Patch her story under an agreement of anonymity.
Despite the fact that a coworker had tested positive for novel coronavirus or COVID-19, she thought the tickle in her throat was due to her sitting home with her cat for three days.
She was wrong.
Twenty-four hours later her fever spiked and she received the call that she had tested positive.
Sarah does not work in a hospital setting but knows what those colleagues are going through.
Sarah noted that this virus outbreak is completely uncharted territory and that many have concern for lack of resources, exposure, protocols, personal protective equipment, rooms and more. She said that these concerns have left her with reservations about returning to work and she has concern for her colleagues.
"I truly feel for my friends who are still working in hospitals. I've heard that some hospitals are making their staff work even after being exposed to patients who test positive," Sarah said. "I understand the catch 22 of needing healthcare workers to take care of the sick, but what about the sick healthcare workers themselves? It's not fair or ethical. And it will only further spread the disease."