New Jersey Needs Help with Vaccine Effort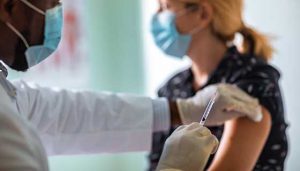 As New Jersey expands its COVID-19 vaccination efforts to larger groups of people, qualified volunteers are needed to help give shots into arms, officials said.
State Commissioner of Health Judy Persichelli called for volunteers across the state to help distribute shots through the Medical Reserve Corps, saying recently retired health care workers are desired. She encouraged individuals who can serve as vaccinators; physicians, nurses, pharmacists, paramedics, anyone who is certified to inoculate, to sign up with their County Medical Reserve Corps.
"I encourage particularly recently retired individuals to sign up," Persichelli said.
Volunteers must have had previous experience and training with intramuscular injections, as there is no state training program at this time.
The Medical Reserve Corps is a local-level branch of the Federal Citizen Corps, a federally run volunteer program that works to harness civilian expertise during times of need. Members of the Medical Reserve Corps are used during public health emergencies, including pandemics, and can help provide emergency medical services, vaccine distribution, and assist with logistics.
Decisions on where the volunteers will be used will be decided at the local level.
Interested residents can apply to volunteer through a state sign-up website. Participants should select the county they wish to volunteer in on a drop-down menu.
It is unclear how many professionals New Jersey needs to reach its goal of vaccinating 70% of New Jersey adult residents—about 4.7 million people—in the next six months.
To join the Medical Reserves Corps, click here.