More Free Hotel Rooms for Nurses on Frontlines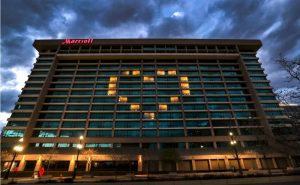 With support from credit card partners, American Express and JPMorgan Chase, Marriott has committed to provide $10 million worth of hotel stays for health care professionals leading the fight against COVID-19 in the United States.
The initiative, called Rooms for Responders, will provide free rooms in some of the areas most impacted including New York City, New Orleans, Chicago, Detroit, Los Angeles, Las Vegas, Washington, D.C. and Newark.
To implement this initiative, Marriott collaborated with the American College of Emergency Physicians and the Emergency Nurses Association to match doctors and nurses with free accommodations at participating hotels.
In a separate effort for frontline health care workers, Marriott joined a number of its hotel owners and franchisee partners  in launching the Community Caregiver Program. This initiative, available in the United States, Canada, the Caribbean and Latin America, provides significantly discounted rates for first responders and health care professionals who want to book rooms at hotels in close proximity to the hospitals where they're working. The rate is available on Marriott.com at nearly 2,500 hotels.