Mindfulness: Meditation
In the craziness of our lives, we take very little time to take care of ourselves. And as nurses, our focus is always caring for others.
We often forget about or do not leave enough time to care for ourselves. Our job as a nurse can be stressful.
Mindful meditation is a great way to engage in self-care and add peaceful balance within your day, even your craziest of days.
Mindful meditation can be done in as little as 3-5 minutes a day and is easy to do. For mindful meditation, sit quietly in an area with no distractions and focus on your breath.
Some of the many benefits of mindful meditation for nurses that also improve practice and enhance self-care include:
• Improves problem-solving and intentional action by strengthening the region of the brain that is responsible for attention, the amygdala (Howland & Bauer-Wu, 2015)
• Improves coping skills
• Decreases stress
• Minimizes burnout
• Increases relaxation
• Improves relationships with your colleagues
• Clear understanding of yourself
• Improves compassionate care for your patients and yourself
According to Howland and Bauer-Wu (2015), practicing mindfulness through meditation broadens attention and intention, which deepens awareness of clinical situations.
There are six easy steps to perform mindful meditation:
1. Sit down.
2. Ground yourself to your seat. If you are on a chair, make sure your feet are flat to the
ground. If you are on the floor, sit on a cushion, and cross your legs comfortably in front of
you.
3. Straighten your spine by sitting straight up. Be cautious not to stiffen-up.
4. Place your arms parallel to the body and then place your hands on the top of your thighs.
5. Drop your chin and look downward. You can close your eyes or leave them open, whatever is most
comfortable for you.
6. Relax and focus on your breath. If your mind wanders, refocus and think only of your breath.
Below is a pictogram of the steps listed above.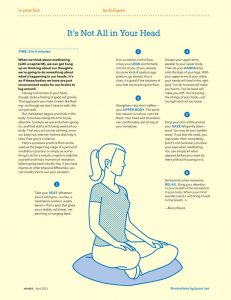 (Illustration by Lee, J. (2013). Retrieved from https://www.mindful.org/mindfulness-how-to-do-it/)
To remember to engage in mindful meditation, set reminders for a time you are most likely to do it. Give yourself a limit for 3-5 minutes, and set the alarm for that much time so that you will not have to worry about time when you are meditating. Today's watches and smartphones, such as the Apple Watch, have a free breath app that can be helpful especially when you are meditating for the first time. These apps allow you to set reminders and time frames.
You can meditate on your break, in the car, when you get up in the morning or before bed. You can meditate anytime that works best for you, and you can do it as often as you like. Mindful meditation is a great way to decompress after a busy shift.
Remember to be mindful and meditate daily. You are worth it!
Sincerely,
Buffy Reilly and the Healthy Nurse, Healthy New Jersey Team
If you would like a chance to win the book Mindfulness for beginners: Reclaiming the present moment and your life by Jon Kabat-Zinn, just send an email to healthynurse@njsna.org explaining how you have incorporated mindfulness into your life. Every time you write to us at healthynurse@njsna.org telling us about your Healthy Nurse journey, you will be entered to win a Healthy Nurse Grand Prize. We love to hear from you, so please keep writing to us!
References:
Howland, L. C., & Bauer-Wu, S. (2015). The mindful nurse. American Nurse Today, 10(9). Retrieved from https://www.americannursetoday.com/mindful-nurse/
Mindful Staff. (2014). Mindfulness: How to do it. Retrieved from https://www.mindful.org/mindfulness-how-to-do-it/