Medical and Legal Aspects of Nursing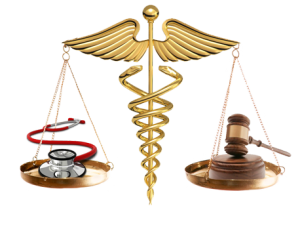 Practicing a healthy mindset includes knowledge of our scope and standards of practice.
According to the ANA Nursing Scope and Standards of Practice, the definition of nursing is: the protection, promotion and optimization of health and abilities, prevention of illness and injury, alleviation of suffering through the diagnosis and treatment of human response and advocacy in the care of individuals, families, communities and populations.
Nurses have an ethical obligation to maintain and improve health care practice environments conducive to the provision of quality health care (ANA 2001). Negative, demoralizing and unsafe working conditions contribute to medical errors, ineffective delivery of care and conflict and stress among health care providers.
The standards of practice describe competent levels of nursing care using the critical thinking model known as the nursing process, including assessment, diagnosis, outcomes identification, planning, implementation and evaluation.
The standards of professional performance describe competent levels of behavior for the professional nurse: activities related to ethics, education, evidence-based practice/research, quality of practice, communication, leadership, collaboration, professional practice evaluation, resource utilization and environmental health.
All professional nurses are expected to participate in role activities and are accountable for their actions to themselves, their clients, their peers and society.
As a professional registered nurse and/or advanced practice nurse, your nursing knowledge and clinical practice skills should be up to date and following current standards of care. Deviations from the professional scope of practice and/or the professional standards of care can put the nurse at increased risk of liability and potential professional negligence.
Are You a Healthy, Knowledgeable, Practicing, Professional Nurse?
Are you up to date with the current scope and standards of practice?
Are you up to date with the continuing education requirements for your state's licensure renewal (i.e., 30 credits every two years in New Jersey)?
Do you maintain professional records that provide evidence of competency and lifelong learning?
Do you use current health care research and other evidence to expand your clinical knowledge, skills, abilities and judgment to enhance role performance and increase knowledge of professional issues?
Does your continued education reflect knowledge of current standards of care in your specialty?
Do you carry malpractice insurance?
Do you follow the nursing process?
Do you communicate, collaborate, coordinate with the client/family and health care team?
Do you advocate for your client(s)?
Do you make appropriate and timely referrals for care needs?
Do you provide an appropriate education for your clients/families?
Do you document in a professional, appropriate and timely fashion?
Do you practice according to the Code of Ethics for Nurses with Interpretive Statements (2015)?
Do you practice within HIPAA regulations?
Do you take appropriate actions regarding the instance of illegal, unethical, inappropriate behaviors that can endanger or jeopardize the interests of the client or situation?
Are you active in your professional practice in leadership roles to enhance nursing practice and make quality improvements in the healthcare delivery system?
Do you engage in self-evaluation of practice, identifying areas of strength and areas where professional growth would be beneficial?
Do you participate in peer review or provide peers with formal/informal feedback regarding their practice or role performance?
Do you practice in an environmentally safe and healthy manner?
Do you know some of the medical/legal aspects of practice and how to minimize your risk against the following:

Professional negligence/gross negligence
Abandonment of care
Assault and battery
False imprisonment
HIPAA violations
Failure to assess and develop an individualized plan of care/communication/documentation/ timely referrals/education and including the client in the care planning process

Do you know how professional malpractice is determined?
Do you know how to defend yourself in a deposition or trial?
10 Ways to Update Your Knowledge, Follow Current Standards of Care
Obtain and review Nursing: Scope and Standards of Practice, 3rd Edition (ANA 2015).
Obtain and review the Code of Ethics for Nurses With Interpretive Statements, 2nd Edition (ANA 2015).
Know the current standards of care for your clinical specialty.
Share your nursing knowledge and expertise with other nurses.
Maintain timely, appropriate, legible, professional records that support the care provided, communication with the client/family and health care team.
Be active in your profession.
Actively support nursing research, education and professionalism.
Carry professional malpractice insurance that covers all your areas of practice.
Advocate for yourself, your clients, your work environment, your community and society as a whole.
Participate in self and peer review and regulation.
A healthy, up-to-date, knowledgeable nurse maximizes health, wellness and support for themselves, their clients, their profession, their health care team and society as a whole!
Susan Mikulak Cacciola, RN, BSN, WCC, legal nurse consultant, Legal Nurse LLC Healthy Nurse Healthy New Jersey Team