Institute for Nursing Scholarship and Awards Gala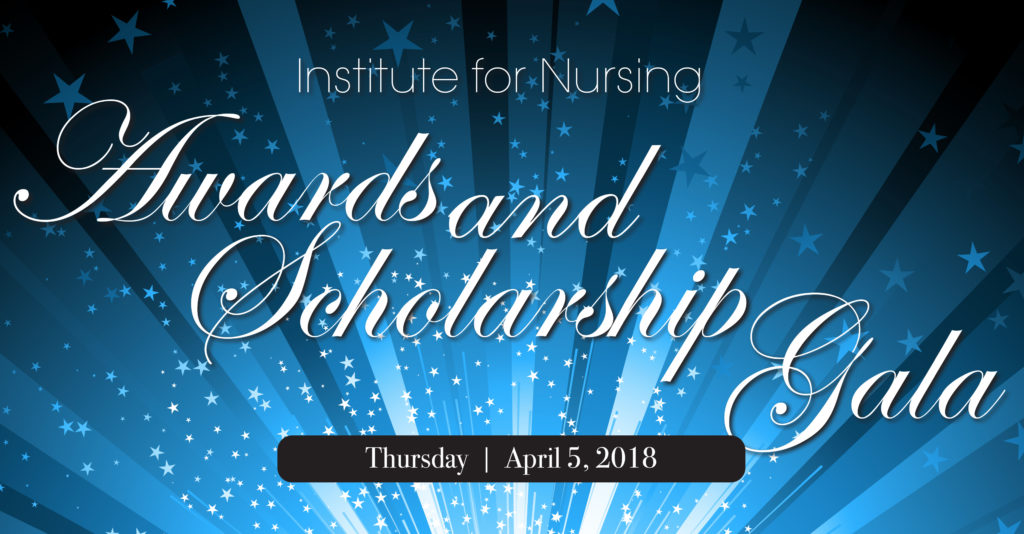 SOLD OUT EVENT!
REGISTRATION FOR THIS EVENT IS NOW CLOSED.  WE CANNOT ACCOMMODATE ON-SITE REGISTRATION.
Institute for Nursing Awards and Scholarship Gala hosted by The Institute for Nursing (IFN), the foundation of New Jersey State Nurses Association (NJSNA), will recognize nurses and community members for leadership, excellence in nursing and community impact on April 5, 2018 at the Hyatt Regency Princeton.
Beacons of Light nominees, Divas & Dons and EPIC honorees will be celebrated at the Gala. The evening will culminate with the announcement of one nurse being recognized with the Beacon of Light award. To keep all eyes on the future of nursing, scholarship recipients will be recognized.
To purchase an ad in the commemorative journal or become a Gala sponsor, click on the links below. Please download the registration form and return the filled out document to NJSNA's office. For questions or additional information, please contact Debra Harwell, NJSNA deputy director, at 609-883-5335, ext. 119.
Commemorative Journal Opportunities
Beacon of Light
The IFN will recognize 14 nurses for outstanding work towards inspiring the lives of other nurses through leadership, service, community impact and mentorship.
These nurses who exemplify excellence in nursing, have a lasting impact on the profession and mentorship will be recognized and one nurse will be honored with the Beacon of Light award selected from among the 14 outstanding nominees and announced at the Gala.
"The Institute for Nursing Awards and Scholarship Gala is an event to celebrate nursing by recognizing nurses and community members who represent passion for the profession, said Kate Gillespie, MBA RN NE-BC, chair of the Institute for Nursing and NJSNA president-elect. "These individuals demonstrate the passion and commitment to help other nurses through mentoring, coaching and giving back to the community through their compassion and desire to help others achieve their goals."
Beacon of Light Nominees
Penny Becica-Kraus, BSN, RN
Cape Regional Medical Center
Virginia Carreira, DNP, RN, APN, CCRN, CDE
School Base Long Branch High School
Cheri Clancy, MSN, MS, RN, NEA-BC, CPXP
Cheri Clancy & Associates, LLC
Deborah Ewtushek, MSN, MS, RN, CSN-NJ
Memorial Middle School
Valera Hascup, PhD, MSN, RN, CTN, CCES
Saint Peter's University
Eileen Horton, MSN, RN, NEA-BC
Capital Health System
Susan Laffan, RN, CCHP-RN, CCHP-Advanced
Correctional Healthcare
Martin Manno, PhD, MSN, RN, ACNS-BC, NEA-BC
Virtua Health System
Bridget Maybury, MSN, RN, APRN
James J. Peters Veterans Hospital
Brenda Petersen, PhD, MSN, RN, APRN-BC, CPNP-BC
Caldwell University
Shirley Smoyak, PhD, RN, FAAN
Rutgers University, School of Nursing
Joanne Taylor, RN
Cape Regional Medical Center
Susan Weaver, PhD, RN, CRNI, NEA-BC
Hackensack Meridian Health Ann May Center for Nursing
Mary Beth Wegman, MSN, RN
Galloway Township Board of Education
Divas & Dons
Divas & Dons will be recognized for outstanding professional career accomplishments. Divas and Dons are New Jersey nurses who have made an extraordinary impact on the profession and the community and are being recognized for their contributions to nursing research, nursing education or administration and outstanding professional career accomplishments.
Divas & Dons
Lydia Albuquerque, DNP, RN-BC, ACNP-BC, CCRN
University Hospital
Jackie Baras, MSN, MBA, RN
Robert Wood Johnson Barnabas Health
Saundra Austin-Benn, MSN, APN-BC
Private Practice
Tracy Carlino, DNP, MA, RN, NEA-BC
Virtua
Ann Marie Leichman, MSN, RN, NEA-BC
The Valley Hospital
Gina Miranda-Diaz, DNP, MPH, APHN- BC
West New York Health Department
Daniel Misa, MSN, RN, CEN, CPEN
The Valley Hospital
Larider Ruffin, DNP, APN, RN, ANP-BC, GNP, CRNP, CTTS
Stockton University
EPIC
Community leaders who continue to support the state's nursing profession will be honored with the "Exceptional People Impacting our Communities" (EPIC) awards. Honorees are acknowledged for their efforts to advance wellness and promote health care initiatives, and for exhibiting extraordinary leadership and support of the profession of nursing. We must applaud their courage in assuming a leadership role within their communities and among their constituencies. Such an extension of self requires vision, faith in one's abilities, and confidence in those who believe in the vision and seek to follow it.  With their vision focused on achievement through service, our honorees have a deep appreciation of and capacity for excellence.
EPIC Honorees
Robert P. Wise, MPH, FACHE
Hunterdon Healthcare
Susan Cholewka, MBA
Organization of Nurse Leaders of New Jersey