Advanced Infection Control
Advanced Infection Control Resources
The New Jersey State Nurses Association (NJSNA) has partnered with the American Nurses Association (ANA) and the Centers for Disease Control and Prevention (CDC) to develop the Nursing Infection Control Education Network (NICE Network). The NICE network seeks to empower nurses to protect themselves and their patients by providing real time infection prevention and control training to U.S. nurses.
NJSNA is one of 20 nursing specialty organizations to take part in the program.
This educational partnership will help decrease the amount of infections, not just in hospitals, but also in long-term care facilities and the home, because nurses are everywhere.
The program also will focus on containing the spread of emerging super-infections, such as MRSA and Ebola, to protect patients, the public and nurses themselves.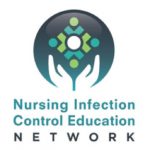 The information was administered via webinars, conference calls, e-mail and a program at NJSNA's 2017 Annual Conference. A two-hour program at the conference entitled, "CDC Infection Control" presented by Christine Filippone, DNP, MSN, BSN, ANP, CIC, and NJSNA member, was held on Tuesday, October 10, 2017, 6:00 p.m. – 8:30 p.m. at Bally's Casino and Resort in Atlantic City. Dr. Filippone is director of epidemiology/infection control and an adult nurse practitioner at Community Medical Center and the Ocean County Health Department. She holds a Doctorate of Nursing Practice, a Master's in Nursing and is currently completing her Ph.D. in nursing education and leadership.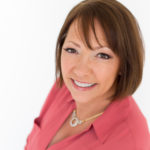 Christine Filippone, DNP, MSN, BSN, ANP, CIC, and NJSNA member
Webinars
The seventh webinar in the Empowering Nurses to Protect Themselves and Their Patients series, A Discussion of Current Infection Prevention and Control Challenges in Maternal and Child Health Settings, will feature the National Association of Pediatric Nurse Practitioners and the Association of Women's Health, Obstetric, and Neonatal Nurses.
Nurses use their skills and expertise to help provide safe care and treatment to patients. Adherence to infection prevention and control recommendations is critical to prevent occupational exposures and the cross transmission of pathogens in healthcare settings. This webinar will discuss infection prevention practices and challenges in women's health, obstetrics, and pediatrics, the importance of standard precautions, and practical solutions and ways to implement infection prevention in these specialty environments.
Register for this webinar on Tuesday, May 15, at 11 AM EDT.
Previous Webinars
The sixth webinar in the Tune in the Safe Healthcare series was "Disaster Preparedness through the Seasons," featured the National Association of School Nurses and the American Association of Occupational Health Nurses.
Healthcare personnel may serve as responders during disasters or infectious disease outbreaks. To effectively respond to public health emergencies and natural disasters, healthcare professionals must engage in emergency preparedness and response activities. This webinar will address how nurses can be prepared to maximize patient safety, decrease occupational exposures, and prevent the spread of infections in their schools, healthcare facilities, and communities during an outbreak or disaster.
The fifth webinar in the Empowering Nurses to Protect Themselves and Their Patients series, "Exploring Best Practices in Injection Safety," took place on February 22 and feature the American Association of Nurse Anesthetists, the American Nephrology Nurses Association, and the Infusion Nurses Society.
Nurses' role in adhering to injection safety best practices is critical to patient safety and healthcare personnel safety. Injection safety includes practices intended to prevent transmission of infectious disease between one patient and another, or between a patient and healthcare provider, and also to prevent harms such as needlestick injuries. This webinar will describe the essential balance between meeting immediate or emergent patient safety needs and performing all recommended infection control practices during clinical care. This webinar will also identify safe injection practices intended to prevent catheter-related bloodstream infections and describe injection practices in a hemodialysis facility that would potentiate a patient's risk for infection.
A February 2 webinar titled, "Nurses' Roles in Antibiotic Stewardship," featured the Academy of Medical-Surgical Nurses, the National Association of Clinical Nurse Specialists, and the National Student Nurses Association. The webinar used the ANA and CDC white paper as the framework to describe the problem of antibiotics resistance, help nurses embrace an expanded role in hospital antibiotic stewardship programs (ASPs), list key reasons for nurse leaders to be engaged with antimicrobial stewardship, and highlight the significance of adherence to clinical practice guidelines in the educational setting.
Antibiotic Awareness Week: Protect Your Patients
NJSNA is a proud partner in Antibiotic Awareness Week, which takes place November 18-24, 2019.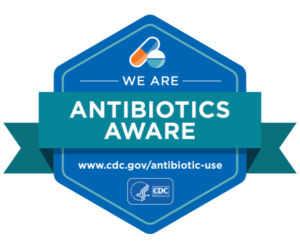 The CDC is urging healthcare professionals to prescribe antibiotics only when necessary to help fight antibiotic resistance and the spread of superbugs. To kick off U.S. Antibiotic Awareness Week, CDC launched Be Antibiotics Aware, an educational effort to raise awareness about the importance of safe antibiotic prescribing and use.
The new Be Antibiotics Aware initiative provides resources to help improve antibiotic prescribing among healthcare professionals, focusing on prescribing antibiotics only when needed, and at the right dose for the right duration and at the right time.
CDC's Be Antibiotics Aware educational effort encourages healthcare professionals to:
Follow clinical guidelines when prescribing antibiotics.
Remember to prescribe the right antibiotic, at the right dose, for the right duration, and at the right time.
Protect your patients. Only prescribe antibiotics when they are needed. You can do harm by prescribing antibiotics that aren't needed.
Tell your patients why they don't need antibiotics for a viral infection, what to do to feel better, and when to seek care again if they don't feel better.
Talk to your patients and their families about possible harms from antibiotics, such as allergic reactions, C. difficile, and antibiotic-resistant infections.
Watch for signs of sepsis, which can be life threatening. If you suspect sepsis, start antibiotics immediately. Signs include confusion or disorientation, shortness of breath, high heart rate, fever, or shivering or feeling very cold, extreme pain or discomfort, clammy or sweaty skin.
Follow hand hygiene and other infection prevention measures with every patient.
Be Antibiotics Aware has resources to help healthcare professionals (in outpatient and inpatient settings) educate patients and families about antibiotic use and risks for potential side effects. For more information visit: www.cdc.gov/antibiotic-use.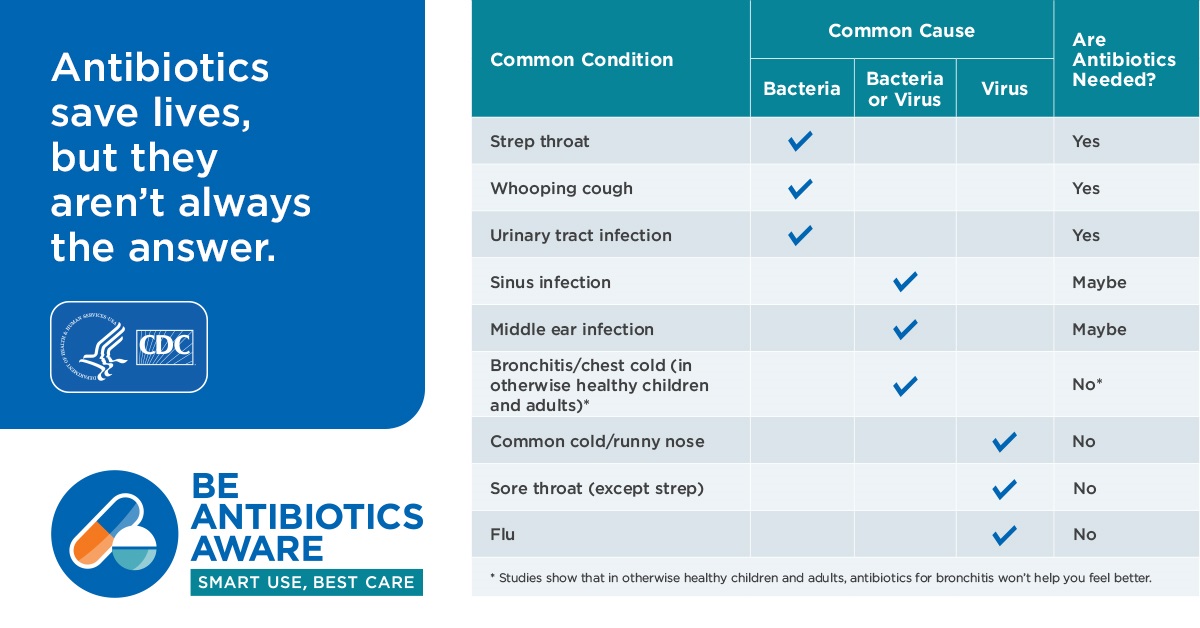 Click here for more information about the NICE Network.
CDC's Office of Antibiotic Stewardship released of a new report, Antibiotic Use in the United States, 2017: Progress and Opportunities. This new publication highlights the progress the United States has made toward optimal prescribing and use of antibiotics in human health, and identifies opportunities for improvement. Additionally, it includes information about the current status of antibiotic use in healthcare settings and highlights programs and resources to support stewardship.
In addition to reading the report visit CDC's Safe Healthcare Blog to learn about Ascension Health's experience related to antibiotic stewardship and read about what CDC is doing to improve antibiotic prescribing and use related to tuberculosis, gonorrhea, and Valley fever.
ANA has partnered with Medscape to develop a series of six free CME/CE courses addressing the key issues surrounding infection prevention in healthcare facilities. CDC and Medscape Education Present: Infection Prevention and Control for US Healthcare Workers – A Free CME Series:

Infection Transmission Risks Associated with Nonsterile Glove UseCME / ABIM MOC / CE Handle with care; hand hygiene and nonsterile glove use. Upon completion of this activity, participants will have greater knowledge regarding:

How hand hygiene prevents transmission of infection with appropriate use of soap and water, alcohol-based hand rub (ABHR), and nonsterile gloves
Glove management and the identification of correct vs incorrect glove use

Infection Prevention: A Hierarchy of Controls ApproachCME / ABIM MOC / CE Learn how this "prevention through design" strategy can reduce or prevent illness, fatalities, and occupational injuries. Upon completion of this activity, participants will have greater knowledge regarding:

Increased knowledge regarding the elements of prevention through design, using the concept of hierarchy of controls
Increased competency regarding how a hierarchy of controls can be applied to infection risks