In the Spotlight: Valonda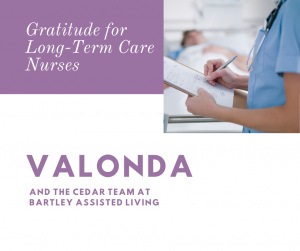 Georgiana Jagger served in World War II as a recruiter and was stationed at Fort Dix in Morristown.
Georgiana came to The Orchards at Bartley Assisted Living, located in Jackson, in March 2015. She then transferred to our skilled nursing home in July 2018 where she calls our Memory Care Unit, Cedar, home.
Georgiana, or Georgie, as her family and friends call her, has three children, seven grandchildren and eight great-grandchildren. They are grateful for the care she is receiving at Bartley Healthcare and they hope to celebrate her 100th birthday with her on July 31. Georgie's daughter, Georgia, is "very grateful for the care and dedication of her nurse Valonda, as well as her frequent communication with us."
Valonda and the Cedar team helped care for Georgie after she was diagnosed with Covid. She remained asymptomatic and has now recovered. Georgie is back to her easy going self and enjoying her alone time.
We can't wait to celebrate your 100th birthday with you Georgie!