In the Spotlight: Agustin Guido III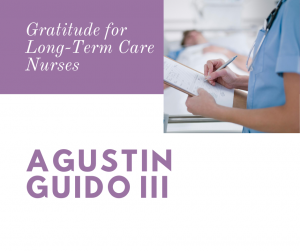 As a DON of an LTC facility (Hartwyck at Oak Tree), Gus handled the COVID pandemic with his excellent management and vigilance. Even before the COVID pandemic hit the state, Gus already started the facility preparation by initiating education to both patients and staff. He is a firm believer of education and believes in the concept of good education translating into better preparedness and outstanding outcomes.
Hartwyck at Oak Tree facility has a very vulnerable population, as it houses ventilator, brain trauma (ERU), sub-acute, LTC and residential patients. Despite this challenging set up, the facility survived the height of the pandemic, did not close for admission and continued to admit even COVID-positive patients. End result: 100% recovery rate and 0% mortality rate, for both patients and staff who were afflicted with COVID. Everybody agreed that this is because of the good teamwork of all employees in the facility, headed by the outstanding leadership of Gus, who never even took a day off since the pandemic began.
Saying thank you to Agustin Guido may not be enough, but his work ethics and outstanding management need to be acknowledged, and he needs to know that many are grateful for him.