In Minnesota, Nurse Staffing Bill Gutted in Final Hours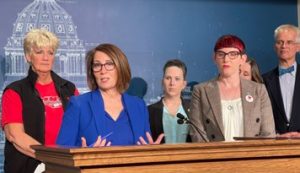 A nurse staffing bill that passed the House and the Senate just weeks ago was gutted in the final hours of the 2023 legislative session when some senators withdrew their support because of an exemption for Mayo Clinic.
Gov. Tim Walz pressured legislators to carve out Mayo Clinic after the hospital threatened to move billions in future investments out of state if the bill passed.
In last-minute negotiations, the bill's authors were forced to cut out the heart of the bill: a mandate that hospitals create staffing committees — made up equally of direct care workers and hospital administrators — with the power to set minimum nurse staffing levels.
During a legislative session during which powerful corporate interests were consistently rebuffed by the DFL majorities on labor, tax and regulatory issues, the state's hospitals came away with a victory on the final night.
"We came here to pass the Keeping Nurses at the Bedside Act because of the power and influence of corporate health care executives. That bill has died," said Mary Turner, president of the Minnesota Nurses Association and an intensive care nurse.
State lawmakers moved forward pieces of the legislation in a bill renamed the Nurse Patient Safety Act (SF1384) that includes student loan forgiveness for hospital nurses, new reporting requirements on workplace violence, and funding for a study through the Department of Health to analyze why nurses are leaving the bedside.
The bill passed with bipartisan support in the Senate, 40-25, and the House, 112-17.
"We didn't get everything that we wanted. We're not going to get everything that we need. But what we have in this provision … is important, transformative work for nurses," said Sen. Erin Murphy, DFL-St. Paul, a registered nurse and chief author of the bill, during a news conference ahead of the vote.
For months, union nurses have said they already know what is causing the dire shortage of hospital nurses. The union points to surveys that show unsafe staffing levels are a main reason nurses cite for leaving the bedside.
Union nurses say hospital leaders have understaffed units for years in an effort to cut costs, leaving nurses vulnerable to violence and burned out from being assigned more patients than they can safely care for.
Hospital leaders have fiercely opposed the nurse staffing bill, saying there simply aren't enough nurses to hire. They argued staffing minimums would drive up costs by forcing them to hire expensive temporary nurses and would lead to many hospitals closing units. Hospital leaders also say they use software that allows them to assign direct care staff according to patient needs more effectively than rigid staffing ratios.
After the bill passed, the Minnesota Hospital Association released a statement saying, "We deeply appreciate the legislators' thoughtful consideration and their willingness to listen to our concerns regarding legislation impacting patient care."
Mayo Clinic did not respond to a request for comment.
Mayo Clinic issued its ultimatum in the final weeks of session, after versions of the bill had already passed the House and Senate. In an email to DFL legislative leaders and Walz's office, a Mayo Clinic executive said the non-profit would reconsider its plans for new facilities and infrastructure that are "four times the size of the investment in U.S. Bank Stadium" — a $1.1 billion project.
The threat derailed a 15-year-long campaign by the nurses' union to convince lawmakers to pass legislation on nurse staffing. Eight other states have similarly mandated nurse requirements staffing committees, according to the American Nurses Association. California and Massachusetts have more stringent government-mandated nurse-to-patient ratios.
Mayo Clinic also opposed a separate bill that would have created a health care affordability board, with the power to set spending growth targets and fine health care systems that exceed them. That bill was also significantly watered down. Instead, the state will create a program to study the drivers of rising health care costs more broadly.
The nurse staffing bill's chief authors — Murphy and Rep. Sandra Feist, DFL-New Brighton — initially resisted pressure to exempt Mayo Clinic before relenting and pushing forward with a bill that applied to all other hospitals.
In the intervening time, hospital systems across the state mounted a successful campaign to convince lawmakers that an exemption for one health system was unacceptable.
"I'm very concerned by the Mayo carve out. It's bad public policy. Everyone should play by the same rules and the same laws," said Sen. Kelly Morrison, DFL-Deephaven, on Monday afternoon before the new bill was unveiled. Morrison is a doctor at Allina Health.
The nurse staffing bill would have also empowered nurses to refuse assignments they believed were unsafe, required hospitals to publicly post emergency room waiting times, and directed the state Department of Health to publicly grade hospitals on how well they meet staffing plans. Those provisions were scrapped along with the mandate for staffing committees.
The bill's authors celebrated what was left of the bill, and the fact that it would apply to all hospitals including Mayo Clinic.
"We are not leaving any nurses behind," said Sen. Liz Boldon, DFL-Rochester, who is a registered nurse.
(This story originally appeared in Minnesota Reformer.)