How to Help the Be A Rainbow Project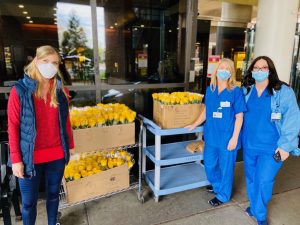 A former New Jersey nurse has delivered more than 3,000 yellow roses since April to COVID-19 patients across New York, Connecticut and New Jersey.
Amy O'Hara, 37, of Franklin Lakes, said each rose comes with a ribbon and tag containing a positive message like "You Are Not Alone," "You Are Essential to Me" or "Thank You for Being a Rainbow."
It is part of the "Be A Rainbow" project where O'Hara is collaborating with RedBliss Design—a New York City-based design agency that designs the tags with rainbow hearts—and Colony Florist and Gifts—a Franklin Lakes-based florist that provides the roses.
"The project is to spread kindness and little rays of light, and I came up with the idea of giving roses to COVID-19 patients," O'Hara said. "I'd kept in touch with some nurses I'd worked with in New York City and New Jersey who told me how it looks like a warzone now. We got hit hard in my county and also the city."
She continued, "One of the saddest situations is that patients feel alone, can't have visitors and their nurses, due to lack of PPE [personal protective equipment], can't spend much time with them. The patients are scared too and I thought I'd like to let them know that we're thinking of them."
The "Be A Rainbow" project is made possible whenever people and/or organizations donate money to O'Hara's Venmo account — @AmyOHara23 — and indicate if they would like their name printed on the rainbow tag that goes with a rose. O'Hara said any donation amount is generous; she uses the donated money to pay for the roses, ribbons and tags.
For more information, visit bearainbowproject.org.