How to Benefit from Pursuing a Career in Nursing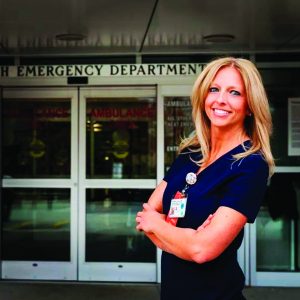 Nursing may be fast-paced and challenging, but it can also be highly rewarding and give you a sense of purpose. Fortunately, nurses are always in demand, which means nursing jobs are always available if you're considering pursuing this career path.
Here's more about why you should be a nurse and tips for finding nursing jobs with the hospital or healthcare provider of your choice.
What Are the Benefits of Being a Nurse?
Being a nurse has countless benefits, including excellent job security, a competitive salary, and appealing benefits packages. If you live in an area where nursing jobs aren't in demand, you can consider being a traveling nurse so you can temporarily work in cities or healthcare settings where the demand is high.
Other benefits of being a nurse include:
Flexible work hours that can be scheduled around your personal and family lives
Opportunity for advancement, especially at medical centers that offer ongoing education programs specifically for nurses
Option to pursue one or more nursing specialties such as heart surgery, pediatrics, or labor and delivery
Simple wardrobe, as nursing requires you to wear mainly scrubs and comfortable shoes
Ability to help others improve their health and recover from injuries and illnesses
What Are Tips for Pursuing Nursing Jobs?
Though nursing jobs are usually always available and in demand, you may be faced with competition when it comes to pursuing your ideal nursing position. Here are some tips to follow when pursuing a nursing job.
Keep furthering your education. Nurses who plan to continue their education are often more sought after than nurses who haven't planned. Additionally, continuing your education can open the door to higher salaries and a higher number of future job opportunities.
Network with others in your industry. Connect with healthcare professionals at every level so you can build a solid network of valuable references and connections. In addition, these individuals may help you out later on when a new desirable position opens up in their hospital or department.
Volunteer your time. Volunteer work shows others that you are truly passionate and dedicated to the field of nursing, even when you're not getting paid. It can also help you get noticed by management, who can recommend or hire you for your dream position.
Tailor your resume to the nursing jobs you want. Gone are the days when resumes are one-size-fits-all. Instead, when applying for a job you really want, update your resume, so it highlights your skill sets and expertise that are relevant to that particular position.
Follow job boards that are limited only to the healthcare and nursing industries. These job boards can save you time in your job search and expose you to a higher number of open positions for which you actually qualify.
What Are Other Top Healthcare Jobs?
According to U.S. News, nurse practitioners are ranked #1 among the Best Health Care Jobs of 2022 and #2 in 100 Best Jobs. It adds that the median salary of a nurse practitioner in the United States is $111,680. If you're not 100% sure you want to pursue a career in nursing, here are other top healthcare jobs in the United States to consider:
Physician assistants, who examine patients, diagnose illnesses, and work closely with doctors and surgeons.
Speech-language pathologists, who diagnose and treat speech-language disorders in children and adults.
Physicians, who diagnose, treat, and prevent illnesses and health conditions
Registered nurses, who monitor patients, administer medications, and chart patients' progress (The median salary of a registered nurse in the United States is $75,330.)
Respiratory therapists, who diagnose and treat respiratory diseases and breathing disorders
Oral surgeons, who specialize in surgery on the mouth, teeth, jaws, gums, neck, and head
Nurse anesthetists, who work with patients regarding anesthesia before, during, and after surgery (The median salary of a nurse anesthetist in the United States is $183,580.)
Nursing usually requires anywhere between 12 months and four years, depending on the nursing field you pursue. However, keep in mind that it's never too late to pursue a career in nursing, especially if this is what you've always wanted to do.
(This story originally appeared in Daily Nurse.)