How 2020 Change a Nurse Forever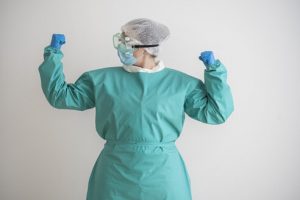 For the first time in 20 years, operating room nurse Kathleen Connors returned to the floor last March, covering herself in protective equipment and trying to save patients who were battling COVID-19 alone in their rooms.
The Monmouth Medical Center nurse spent four months on that assignment, overwhelmed both by the pandemic's devastation and her coworkers' strength at their Long Branch hospital.
"It was life-changing," Connors, 54, of Holmdel, said.
Connors will surely remember the devastation. But she said she also will remember her co-workers dressed in PPE coming together to save the sick. She'll remember strangers delivering meals. She'll remember the innovative technology that allowed patients to see their families, even though they were isolated.
"There's just so many blessings that we have," Connors said. "I guess that's something I'm going to take with me to always remember this. All that people gave. You know, there really is a lot of love out there."