Hospitals Confront Workplace Violence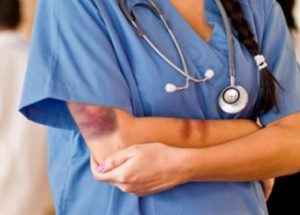 While patient hostility has always been a concern for hospital staff, agitation over COVID-19 and pandemic regulations has heightened tensions in New Jersey and elsewhere.
The pandemic has given hospitals an opportunity to revisit their safety protocols. Limiting entry points to enable COVID-19 screening, for example, allows hospitals to funnel visitors past security cameras.
Inspira Health in Vineland has strengthened its anti-violence policies. Employees are being trained in verbal de-escalation techniques that emphasize empathizing with patients and working to understand the underlying feelings a patient or visitor is trying to express. Other employees, including security staff and staff who work in high-risk areas, are receiving advanced training on these topics.
AtlantiCare has similar programs in place to prevent violence including AtlantiCare's Violence Prevention Committee, as well as annual anti-violence training and additional de-escalation training for security officers.