Honoring Heroic N.J. Nurses in the Pandemic: Nursing Students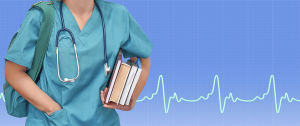 With years of tradition behind the Pinning
Ceremony for nursing students the pandemic
threatened this tradition with a cancellation. Nasim
Bibi, a senior nursing student at William Paterson
University (WPU) and the President of the WPU
Student Nurses Association, had the goal to ensure
the WPU BSN 2020 graduating class had a Pinning
Ceremony. Nasim has been in discussion with the
Department of Nursing to ensure there would be a
Pinning Ceremony, even if it is at a later date such as
August.
Additionally, Nasim and Roxie Kloss, another
senior nursing student, put together a video montage
to show appreciation to WPU nursing alumni during
the pandemic. The video was a collaboration between
nursing students and representatives from the WPU
Office of Development and Alumni Relations.
The collaborative video montage is a wonderful tribute
to alumni who are on the frontline saving lives
while putting their own lives at risk daily. Here's
the link: https://www.facebook.com/WPNursing/
videos/210309250264905/