Governor Murphy Signs Landmark Legislation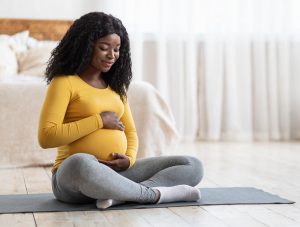 Governor Phil Murphy signed landmark legislation to improve New Jersey's maternal and infant health outcomes for all New Jersey families. The bill (S690) establishes a statewide universal newborn home visitation program in the New Jersey Department of Children and Families, advancing New Jersey as a national model for maternal and infant care.
By signing this legislation, New Jersey will have the most comprehensive and robust universal home visitation program in the nation, as it will provide a registered nurse to conduct home visits for all mothers and newborns within two weeks of birth, and serves both adoptive and resource parents, as well as those families who experience stillbirths. The program will be at no cost to the family. Home visits will feature an evidence-based evaluation of the physical, emotional, and social factors affecting parents and their newborn including physical and mental health wellness checks, breastfeeding support and reproductive planning, environmental assessments of the home, and assessments for social determinants of health, such as food security, transportation access, childcare planning, and employment to ensure families have their needs identified and met.
In January 2021, First Lady Tammy Murphy unveiled the Nurture NJ Maternal and Infant Health Strategic Plan, which aims to reduce maternal mortality in the state by 50 percent over five years and eliminate the racial disparities in birth outcomes, in which a universal home visitation program was a key recommendation of the strategy.
"Home visiting programs have tremendous benefits for mothers, infants, and families," said Governor Murphy. "Research has shown that these programs not only decrease infant and maternal mortality, but also improve mental health, increase child educational attainment, decrease abuse and neglect, and strengthen family success and economic growth. This universal home visiting program is a critical step forward in making our state stronger and fairer for all families, giving them the tools and supports they need for success and resilience, and ensuring New Jersey remains the best place to start and raise a family."
"As we work to combat New Jersey's Black maternal and infant health crisis through Nurture NJ, we know that those first weeks post-partum are absolutely critical in determining maternal and infant health outcomes," said First Lady Tammy Murphy. "Through this universal home visiting program, we are making clear to all New Jersey families that their health, wellness, and development are our highest priority, beginning with birth. For three years, Nurture NJ has been moving steadily ahead in our mission to make New Jersey the safest and most equitable place in the nation to deliver and raise a baby. This new initiative does more than accelerate our progress, it explicitly tackles equity, enables wraparound care and directly launches us to the forefront of maternal health care."
Primary sponsors of the legislation include Senators Teresa Ruiz and Joseph Vitale, and Assemblymembers Shanique Speight, Valerie Vainieri Huttle, and John Armato.
"This legislation was born out of my own personal experience with a lactation nurse who visited my home soon after I gave birth to my daughter. The time spent with her changed my whole outlook. She answered my questions and gave me the reassurance I needed," said Senator Teresa Ruiz. "I realized if we could provide a service like this early to new mothers and parents they would have additional support to rely on during what is one of the most challenging periods of parenthood. Approximately 52 percent of maternal deaths nationwide occur during the postpartum period and nearly two-thirds of deaths are attributed to preventable causes. Especially because our maternal mortality rate places us among the last in the nation, we must do anything we can to support women and parents. Having a home visit will benefit both the caretaker and the newborn; it is essential in diagnosing conditions before it is too late and connecting parents to the care and assistance they need."
"As many as 40 percent of women in the U.S. don't attend a postpartum visit, meaning they don't see an OBGYN after leaving the hospital," said Senator Joseph Vitale. "This visit is typically six weeks after the mother gives birth as well, leaving the parents devoid of any formal or informal support during this period. Offering a free home visit will help encourage many more new mothers to seek postpartum care earlier, allowing them to receive any support or treatment needed."
"Being a new mother can be a challenging experience for women as they recover from childbirth and deal with many changes in their lives," said Assemblymembers Shanique Speight, Valerie Vainieri Huttle, and John Armato. "It is not uncommon for mothers or their infants to experience physical or mental health issues in the weeks and months following their child's birth, which is why follow-up appointments with healthcare providers are so important. Enacting a statewide home nurse visitation program would ensure New Jersey mothers receive invaluable postpartum care and advice during this critical period of time, which would ultimately help ensure the health and well-being of families throughout our state."
"As any parent will tell you, the first few days, weeks and months of becoming a parent can be overwhelming and scary. Children don't come with an instruction manual," said New Jersey Department of Children and Families Commissioner Christine Norbut Beyer. "In the field of child welfare, we know that young children — particularly birth until five — are at the highest risk of becoming victims of child abuse and neglect, with infants being the most vulnerable. Through the provision of universal home visiting, we can offer education and support, identify potential challenges early and refer out to additional services if needed. The universality ensures that all families have equal access to the same critical resources and supports, without stigma, that will enhance the health and well-being of the entire family."