Chronic Nurse Shortage Now Acute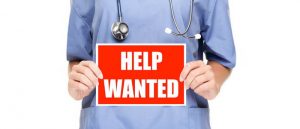 If the nursing shortage is bad now, chances are it's going to get much worse.
"Hospitals were having difficulty finding nurses to fill positions before the pandemic," notes Kendra McMillan, MPH, RN, Senior Policy Advisor for Nursing Practice and Work Environment at the American Nurses Association (ANA). "In fact, according to the US Bureau of Labor Statistics, 175,900 RN openings were projected each year through 2029, when we factor in nurses leaving the workforce for reasons such as retirement. Unfortunately, the pandemic's demand on the healthcare system has further exacerbated a long-standing projection that has burdened our nursing workforce."
Doctors and nurses are overworked, thanks to chronic staffing shortages made worse by a pandemic that drove thousands from the field, writes The New York Times. On the West Coast, "the nursing shortage affecting the whole nation is impacting the Northwest region as well," according to an article in The Bulletin (headquartered in Bend, OR), quoting a Kaiser spokeswoman.
And a recent study found that nurses are reporting large declines in their mental health. More alarming, nurses, especially those who are younger, are feeling less committed to the profession.
Multiple Solutions
To address the growing crisis, hospitals are pursuing multiple solutions, including hiring travel nurses.
"Hiring bonuses, tuition reimbursement, and loan repayment are examples of incentives offered to nurses to boost recruitment and retention efforts," notes the ANA's McMillan. But, she adds, hiring bonuses don't support efforts to retain nurses who are already employed in the organization.
"Nurses are facing longer shifts and are working more consecutive shifts to meet the persistent demands on our healthcare system" notes McMillan. The nurses who remain are burned out physically, mentally, and emotionally."