Free Workplace Violence Webinar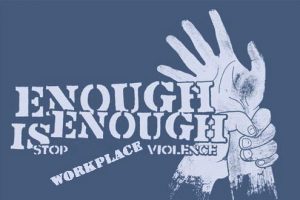 Join the ANA for a free, live, interactive webinar from 1-2:30 p.m. on June 13 that addresses what every nurse needs to know about workplace violence.
Topics to be addressed include:
The barriers to reporting workplace violence, the importance of reporting, and how we can overcome those barriers
The path to a "zero-tolerance" workplace as part of an effective safety culture
Best practices for workplace violence prevention and response
How to support ourselves and our co-workers when we do experience workplace violence
Attendance is free for both ANA members and non-members. Register to receive a free registration gift, the ANA e-book, "Communication, Collaboration and YOU."
Register no later than June 12 at 1 p.m. ET to receive 24/7 access to this webinar so even if you can't attend the live webinar, you can still benefit from this information at a later time. A link will be emailed to all registrants the day after the webinar, so you can view the webinar at your convenience.
Both presenters are ANA members and served on the American Nurses Association End Nurse Abuse Professional Issues Panel.
Donna M. Fountain, Ph.D., APRN, PHCNS-BC, is an associate professor at Chamberlain University College of Nursing in North Brunswick. Her research includes psychosocial factors such as drivers of engagement and bullying related to RN work engagement.
Donna Zankowski, MPH, RN, FAAOHN, is an independent occupational health and safety consultant working in the Washington, D.C. area. She is a longstanding advocate for the occupational health and safety of health care workers at both the state and federal levels.
This program is informational only; no contact hours will be awarded.
Questions or group attendance requests should be emailed to anamembershipwebinars@ana.org.