#FirstRespondersFirst: Nursing Resilience Course Launches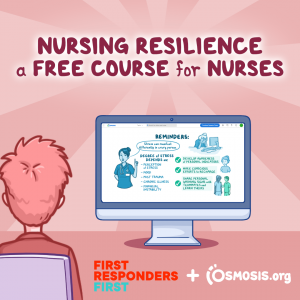 Stress, depression, and burnout already had a disproportionate impact on nurses long before the pandemic, but the current pandemic has brought a crucial and urgent focus to the issue. In response to the compounding stresses brought on by the pandemic, #FirstRespondersFirst, the Johnson & Johnson Foundation, and Osmosis.org created an interactive e-learning course on mental resilience and well-being for nurses.
The Nursing Resilience course includes custom Osmosis Animations and videos, text resources, and assessments within 8 core modules. More than 1,570 learners have taken the #FirstRespondersFirst: Nursing Resilience course on Osmosis and engaged with a total of 164 hours of video content.
Here's what our learners had to say about the course:
"This course helped me to remember what I need to do for me so I can be what I want to be for others."
"This was an excellent course and much needed."
"This video was so informative and helpful in learning how to deal with stressors."
"Very real life scenarios everyone will probably face at some point. Nice knowing that we can ask for help or say no when needed. "
This course is entirely free for healthcare workers and accredited by the Interstate Postgraduate Medical Association (IPMA) for 3.75 contact hours toward continuing education units.
Please see the attached course description and social assets and feel free to spread the word to your members and networks!
Warmly,
The #FirstRespondersFirst Team