Experts Weigh Strategies to Keep Nurses From Exiting Workforce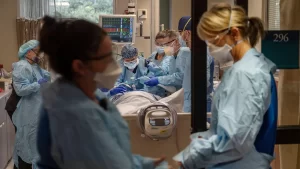 How can hospitals hold on to nurses, bring new ones into the fold, and fend off extreme staffing shortages?
From more positive images of nurses to more flexible roles, industry experts explored a range of solutions to addressing nursing shortages during an online panel discussion, which was hosted by the Bipartisan Policy Center and sponsored by the Federation of American Hospitals.
'Steep Drop' in Full-Time Nurses
Looking at the forecasts of the nursing workforce from 2019 to now, Peter Buerhaus, PhD, RN, a healthcare economist and professor at Montana State University, said we are no longer on track to meet goals.
Just before COVID-19 struck, the nursing industry looked as though it could replace the 640,000 RNs who were expected to retire over the course of the decade, anticipating a million more nurses entering the field, Buerhaus said.
In 2019, Buerhaus and his colleagues predicted that the RN workforce would increase from 3.5 million in 2020 to 4.5 million in 2030. But there was a caveat: the projections depended on entry into nursing continuing to grow at the same rate it had over the past 5 years. As Buerhaus noted, that isn't the current reality.
In 2021, Buerhaus and colleagues observed a "steep drop" by more than 100,000 in full-time RNs. Instead of the expected 4.4% growth in the RN workforce from 2019 to 2021, entry fell by 1.8%, he said.
What worries Buerhaus most is the question of whether or not this drop is temporary.
According to nursing data through January of this year — which builds on the findings of a Health Affairs study that Buerhaus and co-authors published on workforce trends during the first 15 months of the pandemic — many indicators are trending back toward pre-pandemic levels.
Negative Imagery, Messaging
One solution to getting his 2019 forecast back on track, Buerhaus said, is "to immediately control the messaging about nurses and hospitals."
"Too much of the current imagery … too much of the tweeting, the media coverage, the social messaging … is really quite dreadful about nurses, oftentimes by nurses. And … these negative effects have potential for decreasing entry into the profession," he noted.
He recalled a similar problem in the 1990s during a rise in managed care models that sought to control costs. Hospitals trying to win managed care contracts cut high-paid nurses to rein in their spending, which led to nurse protests across the country.
The negative images of nurses in the media led to decreased interest in the profession and a decline in both enrollments and graduations, Buerhaus said.
In 1994, roughly 97,000 RNs graduated, but by 1999 that number had fallen to 67,000. This led to a national shortage of nurses by 2001, he explained.
It took strong messaging such as the Johnson & Johnson Campaign for Nursing's Future in 2002 to help correct the problem.
"We brought hospital executives, physicians, and nurses together for an evening, a celebration about the profession," among other activities, Buerhaus said. "Almost immediately, we began to see interest in nursing pick up, graduations pick up, and that trend line is continued right on to almost today."
He argued that this messaging problem is a "shared responsibility. It's on me. It's on you. It's on our leaders. It's on our professional associations, our educators, and the union, and mostly the media."
Feeling Heard, Feeling Valued
Maureen Chadwick, PhD, MSN, RN, senior vice president for nursing and clinical operations for the Ascension Travel Program, and another panelist at the webinar agreed on the need for stronger communication and messaging, but said the focus should be on making nurses feel valued.
During each surge of the pandemic, more and more nurses left their jobs, in part because of the emotional toll. "They can't unsee what they saw during the pandemic," she said.
To help address those mental health challenges, Ascension brought in chaplains and advance practice nurses with mental health backgrounds to do rounds on staff. They identified nurses who were in trouble and offered virtual support.
However, nurses left for other reasons too, Chadwick noted. In a survey of Ascension's staff that included responses from 23,000 nurses, which was conducted during the Delta surge, Ascension uncovered the top four reasons hospital workers stay at their jobs.
While people do leave for higher paying jobs, the number one reason for staying was value, Chadwick said.
"Am I valued by my leadership?" is the question that — if answered affirmatively — kept workers from leaving, she added. The other top three reasons staff gave for staying were having leaders that inspired them, feeling part of a community, and feeling like leaders helped remove barriers.
"We know if we can't control for value, inspirational leadership, community, and process, people will leave for money," Chadwick noted.
Being Flexible, Welcoming Back Travelers
Growing and maintaining the nursing workforce also calls for greater flexibility in imagining nurses' roles.
Chadwick said there are now opportunities for critical care nurses with many years of experience in the field to return to work in a virtual nurse role. These nurses can support nurse graduates during the night shift by answering questions in place of a physician.
"To have someone kind of beam in, and be able to real-time provide that support, has been really really powerful when you want to talk about supporting our newest novice nurses," she noted.
Another area where health systems and nursing education need to be more flexible is around training requirements, said Deborah Trautman, PhD, RN, president and CEO of the American Association of Colleges of Nursing. "You don't have to work 'X' number of years before you can practice in a certain setting," she said.
As for traveling nurses, Chadwick said "we need to leave our ego at the door and be welcoming when people get tired of traveling. … And they're starting to come back. That's what we're seeing. They want to come back."
(This story originally appeared in the MedPage Today.)