Develop an Innovation Mindset: Leaders Create the Future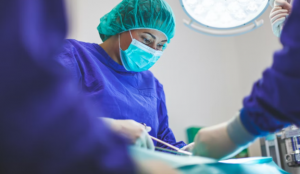 As the complexity of health care and nursing intensifies, nurses are challenged to think creatively and develop innovations that advance the knowledge, learning, and service contributions of our discipline to the health care enterprise. Nursing requires creative thought and innovative action in service of a greater good (Pesut, 2013). The new ANA Innovation initiative is designed to help members develop an innovation mindset and provide people with knowledge, learning, and resources to create the future of nursing.
In order to realize this vision, nurses need to see themselves creative and develop future oriented leadership skills. I am honored and privileged to serve as the Chair of the ANA Innovation Advisory Board. Our Board is dedicated to supporting Dr. Oriana Beaudet as she advances the ANA Innovation initiatives designed to help nurses see themselves creative and develop the leadership skill set to champion creativity and innovation for the future.
Mental Locks Impede Creativity
Creativity consultant Roger Von Oech (1983) suggests there are at least ten mental locks that can be barriers to creative thinking. Some of these mental locks are conscious and some not so conscious. As you think about your own thinking, perspectives, and points of view about creativity and innovation are any of these mental locks preventing you from activating your creativity?
A belief that there is a right answer to problematic situations.
A need for logic to everything.
An affinity for following rules.
A preference for being practical.
A tendency to avoid ambiguity.
A belief that making mistakes is wrong.
A belief that play is a frivolous activity.
A "That's not my job" attitude.
Not wanting to appear foolish.
The self-perception that "I'm not creative."
Keys exist to unlock these beliefs, and barriers. For example, I use Dr. Von Oech's Creative Whack Pack or Creative Whack App to stimulate my own creative thinking about challenging problems. It fun, easy to use, and provides valuable insights about the structure and process of creative thinking. I also have had to develop new mental models and leadership skills related to foresight leadership and futures thinking. One of my favorite thought leaders on future leadership skills is Dr. Bob Johansen.
Leaders Create the Future
Dr. Johansen (2012) believes leaders create the future and to do so they need new skills. These skills are:
A maker instinct: the ability to activate, build, and connect with others to remake organizations.
Clarity: the ability to see through complexity and distill the essence of issues in complex situations.
Dilemma flipping: the ability to turn dilemmas into polarities that need to be managed instead of problems that need to be solved.
Immersive learning: jumping into experience to learn from a first-person perspective.
Bio-empathy: the ability to see things from nature's point of view and to understand, respect, and learn from nature's patterns.
Constructive depolarization: the ability to calm tense situations and to positively engage people even when differences are apparent.
Quiet transparency: the ability to be open and authentic without self-promotion.
Rapid prototyping: the ability to create versions of innovations realizing that future success depends on early failures.
Smart-mob organization: the ability to create, engage, and link purposeful business and social networks.
Commons creating: the ability to seed, nurture, and grow shared assets that benefit others and allow competition at other levels in a system.
An Invitation
Do you see yourself creative and have an innovation mindset? Do you want to develop your leadership skills in health care design and innovation? Please join our efforts and become a part of the ANA Innovation movement. We are looking for people to join our Innovation Advisory Board Committees in the following areas: Business, Intrapreneurship, and Entrepreneurship, Care Delivery Models (Nursing & APRN), Technology & Devices, Data Science, AI, Augmented Intelligence, Education & Communication, Planetary & Global Health, Policy Determinants of Health Equity. Members are appointed by the IAB and report to the IAB and the VP of Innovation. If interested apply here. Join our team and help us create the future of nursing with creativity and innovation in mind.
References
Johansen, B. (2012). Leaders make the future: Ten new leadership skills for an uncertain world. San Francisco, CA: Berrett-Kohler.
Pesut, D. J. (2013). Creativity and innovation: Thought and action. Creative Nursing, 19(3), 113-121.
Von Oech, R. (1983). A whack on the side of the head. New York, NY: Warner Books.
(This story originally appeared in Nursing World.)