DEI and Nursing—The Far-Reaching Benefits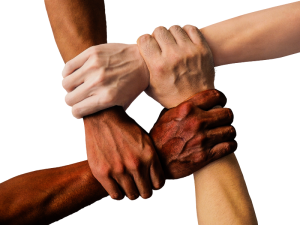 Diversity, equity, inclusion (DEI) and belonging, along with racial, ethnic, and gender inequities are growing topics in the nursing industry.
The lack of DEI efforts contributes to adverse outcomes like patients and their families who find particular shortcomings detrimental to their overall experience and care — issues like a lack of female leadership, health equity, provider diversity, cultural competence, intellectual and developmental disabilities care, and LGBTQIA-focused care.
Patients that identify in these marginalized groups don't see a reflection of themselves when they're receiving healthcare services care and thereby develop a perception that their healthcare is not as good as it could be.
Because they spend more one on-one-time with patients than other healthcare workers, nurses have a unique opportunity to improve the lives of those in their care. However, the need for a more diverse nursing workforce is an issue that frontline nurses sometimes have less control over, but it's one that deserves immediate attention, nonetheless.
DEI and Nursing: What the Data Shows
The 2022 Nurse Salary Research Report contains insights from over 2,500 RNs, APRNs, and LPNs/LVNs across the U.S. addressing jobs and satisfaction in their roles, as well as their demographics. Many of the report's findings point to lack of diversity in the current nursing workforce.
For example, the report found that persons who identify as Hispanic or Latinx are underrepresented across all nursing license types compared to their proportion in the U.S. population as a whole. This data aligns with the National Association of Hispanic Nurses' (NAHN) findings that although Hispanics make up 17% of the total population, only 3.5% out of the more than three million registered nurses in the U.S. are Hispanic.
The report also provides a snapshot of nurse representation across the U.S. Only 2% of our survey's respondents were Black or African American men, whereas Black or African American women made up 8% of female nurses. By contrast, Asian men made up 10% of male nurses, and Asian women made up only 5% of female nurses.
A Future for DEI and Nursing
As hospitals work to bolster DEI efforts, you have likely been a part of some of new ideas or changes. However, because DEI is a relatively new focus area for hospitals and health systems, mistakes are common, and rollouts of new DEI programs are often unorganized. Leveraging guidance from leading quality organizations can be helpful in ensuring the nursing workforce is advancing in the right areas.
Last year, The National Academy of Medicine (NAM), formerly the Institute of Medicine, published a well-known report, The Future of Nursing 2020-2030: Charting a Path To Achieve Health Equity. Highly anticipated and frequently referenced by nursing leaders, this report is the third in a series on the future of nursing.
For more than a decade, the NAM has worked to continuously outline central themes to the future success of the nursing profession, as well as providing specific recommendations on how to achieve bold aims.
Speaking to the urgency and importance of nursing and DEI efforts, the latest report specifically calls out the topic explicitly. One of the report's desired outcomes aspires that "Nurses reflect the people and communities served throughout the nation, helping to ensure that individuals receive culturally competent, equitable health care services."
In alignment with action-oriented nature of the report's structure, a specific step listed to meet this outcome is provided, "Increase the number and diversity of nurses, especially those with expertise in health equity, population health, and SDOH, on boards and in other leadership positions within and outside of health care (e.g., community boards, housing authorities, school boards, technology-related positions)."
Nursing's Role in Advancing DEI Efforts
When implemented correctly, DEI efforts can increase access to care for diverse patient populations, improve care quality and deliver higher patient satisfaction. Getting there, however, is easier said than done. Alisha Cornell DNP, MSN, RN, Senior Clinical Implementation Consultant at Relias, weighed in on the issue.
"While many healthcare organizations support DEI efforts, many have yet to implement the strategies necessary to achieve this social change. It is imperative to understand the difference between being supportive and taking action to implement change."
If you feel that your organization isn't prioritizing DEI as much as necessary, Cornell stressed the importance of nurses taking personal steps to better understand how DEI efforts can impact their career.
"Take advantage of educational DEI opportunities your organization provides — and find them on your own if they do not," she said. "Understanding the complexities and capabilities of a DEI-informed nursing culture will make you a better advocate for your patients and yourself as you grow in your career."
As our nation's diversity continues to grow, so must the nursing workforce to better serve patient needs and advance health equity. To better understand the current level of diversity in nursing, review the findings within the Nurse Salary Research Report.
About the Author: Natalie Vaughn has worked in marketing and communications for more than 15 years, with more than half of her experience dedicated to healthcare quality improvement. At Nurse.com, she partners with physicians, nurses, curriculum designers, writers, and other staff members to shape healthcare content designed to improve clinical practice, staff expertise, and patient outcomes. She obtained a Master of Business Administration degree with a focus in marketing, driven by a passion for understanding consumer behavior, branding strategies, and leveraging thought leaders as innovators within a given industry. She wrote this article for nurse.com.