COVID-Positive Nurses Pressured to Work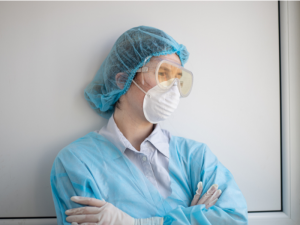 What was once an ill-advised practice is now becoming a common request across US hospitals: Healthcare workers are being asked to treat patients while sick with COVID-19.
In a TikTok video now viewed more than 7.2 million times, April Lynn, an ICU nurse, claimed her hospital cleared her to return to work five days after testing positive for COVID-19, despite still having a cough and severe fatigue.
Four other nurses told Insider that, in the last week or so, they've been instructed to come into work with symptomatic COVID-19, or risk losing pay or receiving a formal warning. The nurses said hospital administrators are pointing to new federal emergency guidance that allows healthcare workers to shorten isolation periods as a way to mitigate widespread staffing shortages.
According to the Centers for Disease Control and Prevention's emergency guidance, released on December 23, healthcare workers can return to work five to seven days after testing positive for COVID-19. Isolation time can also be cut shorter than seven days with a negative test "if there are staffing shortages," the CDC stated.