Centenary University taps experienced nurse educator to lead new nursing program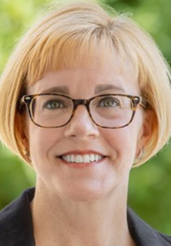 HACKETTSTOWN, NJ (Warren County) — Centenary University has announced the appointment of Rebecca A. Seaman, Ed.D., RN, to direct the University's new nursing program, which is now enrolling students for its Registered Nurse to Bachelor of Science in Nursing (RN to BSN) degree completion program beginning in fall 2023.
The 30-credit degree is open to licensed registered nurses who seek to further their career with a BSN from Centenary.
A resident of Northampton, Pa., Dr. Seaman has more than 20 years of experience as a practicing nurse and nurse educator. She holds a BSN and Master of Science in Nursing Education from Cedar Crest College, as well as a Doctor of Education in Higher Education with a concentration in nursing education from Immaculata University.
She has spent much of her career in the Lehigh Valley as a nurse educator, most recently serving as the undergraduate program director and assistant professor in the School of Nursing at Cedar Crest College.
Dr. Seaman said that Centenary's new nursing program is an important step in reversing an ongoing nursing shortage that worsened during the pandemic.
"There's no question there is a significant nursing shortage that started well before the pandemic," Dr. Seaman said. "Centenary's new nursing program is a way to help meet the healthcare needs of the local community the University serves."
The nursing shortage began pre-pandemic, as nurses in the Baby Boom generation began to retire, according to Dr. Seaman: "As we headed into the pandemic, it was truly the aging of nurses in the profession. Another factor is the level of care nurses are now required to provide is significantly higher than five or 10 years ago; demands on nurses have increased tenfold.
These factors have increased the demands placed on nurses and, in turn, contribute to a nursing shortage that isn't expected to go away anytime soon."
For the next year, Dr. Seaman will work closely with Lauren Bergey, Ph.D., dean of the School of Natural, Health, Social, and Behavioral Sciences, and Craig Fuller, Ph.D., assistant professor of health science and director of Centenary University's health sciences and medical laboratory science programs, to finalize the curriculum of the RN to BSN degree, and begin to set the groundwork for program accreditation.
Accrediting bodies generally wait a year after students are enrolled to accredit programs in the health and wellness sector, according to Dr. Fuller, who has led the University's recent expansion into the health sciences. Over the past three years, Centenary has introduced new healthcare degrees and concentrations in medical laboratory science, health science, public health, and exercise science.
Dr. Seaman noted distinguishing features of Centenary's new RN to BSN degree include a strong balance between the sciences and liberal arts, as well as clinical experiences offered in collaboration with Atlantic Health System. Centenary is also pursuing additional strategic partnerships with other area healthcare providers and community colleges.
"The RN to BSN program at Centenary will be a program of distinction and excellence," Seaman said. "There is a significant amount of data that speaks to the difference in outcomes when patients are cared for by nurses with baccalaureate degrees. Patients are more satisfied, positive outcomes increase, and mortality decreases. In turn, nurses have a greater level of satisfaction in their role within the hospital or organization. Through the new RN to BSN program, Centenary University can truly impact our local community."
(This story originally appeared in WRNJradio.com.)