Call for Senate to Pass HEROES Act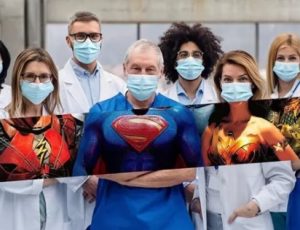 GetUsPPE's Dr. Megan Ranney testified before the Select Subcommittee on the Coronavirus on May 21, discussing the impact of the crisis on medical staff and first responders, highlighting the urgent need for personal protective equipment (PPE) and proposing a path toward a sustainable and equitable supply chain.
PPE deficiencies compromised health care workers' ability to care for patients, introduced wrenching ethical dilemmas and exposed them to the virus itself. These realities will have profound ongoing physical and mental health implications for health care workers, many of whom are already experiencing symptoms of PTSD. "Speaking personally, I am frustrated and exhausted," Dr. Ranney said. "Speaking on behalf of my colleagues, we are experiencing higher levels of burnout, anxiety, sleeplessness and depression."
But Dr. Ranney also emphasized hope: in the time since its founding, GetUsPPE has seen a remarkable influx of donations that have enabled them to coordinate and distribute PPE to health care workers across the country—including to those in communities without resources to donate. But this effort highlights the greater need for long-term solutions. "The creation of a Medical Supply Coordinator in the HEROES Act is a step in the right direction, but to be clear: we must ramp up domestic manufacturing, increase the stockpile available for distribution to states, enhance data on PPE and other supply needs and ensure that PPE is distributed equitably to everyone who needs it," Dr. Ranney said.
Passing the HEROES Act will be critical in mitigating the effects of future outbreaks, particularly as states begin reopening. In its current format, the act will:
Scale the national production and distribution of PPE
Establish a database for monitoring medical supplies, drugs and vaccines at local, state and tribal levels
Prevent price gouging of critical medical supplies
Increase funding to support mobile testing and contact tracing
Increase funding to enhance the manufacturing capacity for COVID-19 vaccines
Establish a "Heroes' Fund" to provide hazard pay to essential workers
Eliminate COVID-19 treatment out-of-pocket costs for Medicaid beneficiaries and the uninsured
The House passed the HEROES Act on May 15. Now, it is up to the Senate to pass this legislation and take a stand in support of our nation's safety. As states begin to lift economic restrictions, additional outbreaks are expected unless swift, adequate measures are taken to protect frontline workers and isolate suspected cases. Therefore, it is vital that the HEROES Act is passed to provide the government with the tools and oversight needed to manage the next stage of the COVID-19 response. The nation must be prepared to protect its frontline health care professionals, essential workers and vulnerable citizens if we are to get through this crisis intact.