Barbie 'Heroes of the Pandemic'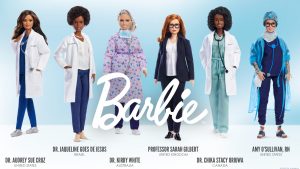 Barbie is honoring six women who are "modern-life heroes of the pandemic" with one-of-a-kind dolls made in their likeness as part of its #ThankYouHeroes program.
"Barbie recognizes that all frontline workers have made tremendous sacrifices when confronting the pandemic and the challenges it heightened," Lisa McKnight, senior vice president of Barbie & Dolls, Mattel, said in the statement. "To shine a light on their efforts, we are sharing their stories and leveraging Barbie's platform to inspire the next generation to take after these heroes and give back."
Among the women being honored are two from the U.S.: Amy O'Sullivan, an emergency room nurse who treated the first COVID-19 patient in Brooklyn at the Wyckoff Heights Medical Center, and Audrey Sue Cruz, a frontline worker from Las Vegas, who worked with other Asian American physicians to fight anti-Asian hate during the pandemic.