8 Reasons Why Nurses Should Get an MBA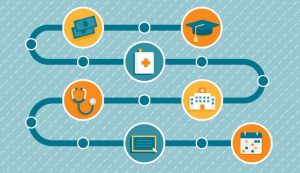 Nurses looking to further their education often assume that the only options are to become a nurse practitioner or CRNA, but a Masters in Business Administration (MBA) degree is another excellent option for nurses. Complementing your nursing degree with an MBA is a great way to break into the business side of nursing and make a significantly higher salary.
From increasing your salary to forging an exciting new nursing career path, there are many great reasons to get an MBA as a nurse. Read on for the top 8 reasons you should consider getting your MBA.
#1. Burnout at the Bedside
One of the most popular reasons why RNs look to advance their nursing education or consider earning an MBA is due to nursing burnout.
The truth is that in the nursing profession, to increase your employment opportunities and escape the bedside, you are going to need higher education. Many hospitals will not promote nurses into administrative roles without an advanced degree.
#2. Explore the Business Side of Health Care
Achieving an MBA alongside your BSN degree will prime you for a career where you can use your business prowess and clinical nursing skills to be a player in the health care business world.
Where are nurses working outside of the clinical setting?
Medical device or pharmaceutical sales representative: In this role, you might work for a corporate healthcare company that develops and sells pharmaceutical drugs to hospitals or medical offices.
Nursing informatics: Here, you could help create new, more efficient electronic medical record-keeping systems. Your work could help healthcare systems run more efficiently and improve patient safety.
Hospital administration: Work your way up the ladder within the healthcare system. Or explore other administrative positions at new facilities or corporations.
#3. Bring a Patient-Care Perspective to the Business Side of Health Care
Many nurses have felt that those on the business side of health care view patients as numbers, not as humans. With an MBA, nurses have the ability to change that perspective and get a seat at the table to make real change.
#4. More Management and Leadership Opportunities
Although having an advanced degree is not always mandatory to get a job in all nurse administrator roles, most large hospital systems now require that nurses have a minimum of a master's degree to be promoted into an administrative role.
At the very least, it will make you a more competitive candidate and show that you are serious about working in higher-level management and leadership positions.
#5. Higher Salaries
The median pay for registered nurses in the United States is $73,300 per year (or $35.24 per hour).
According to the U.S. Bureau of Labor Statistics, the 2019 median pay for nurse administrators is $100,980 per year, or $48.55 per hour (which is $27,680 more per year than registered nurses).  According to Payscale, nursing administrators can earn up to $121,800 or higher, depending on where you live.
The job outlook from 2019-2029 is 32%, which is much higher than the average for all professions. Within that time frame, there will be approximately 133,200 more nurse administrator jobs available. Will you be accepting one of them?
#6. Expand Your Job Opportunities
Getting into the C-Suite can be a lot easier with an MBA, including positions as:
Chief Nursing Officer
Chief Financial Officer
Chief Operating Officer
Chief Executive Officer
Other high-level roles also benefit from an MBA:
Nurse manager
Nurse administrator
Healthcare Manager
Director of Nursing
#7. Forge Your Own Unique Career Path
Not every nurse wants to follow a traditional nursing career path. Achieving an MBA is a less traveled road than getting a CNS, NP, MSN, or DNP.  But earning an MBA gives you an edge to be a leader among business professionals who need you and your medical expertise.
RNs with an MBA credential think differently than an MBA without one, and more nurses should consider an MBA to further their careers, and the healthcare industry as a whole.
#8. You Can Earn an MBA While Working as a Nurse
It has never been easier to earn an MBA while you work. There are so many online options that help make balancing your work and life more attainable.
Many universities also offer both full-time and part-time options and can take anywhere from 1-3 years to complete depending on how fast you complete your classes.
MBA degrees focus on specific areas such as entrepreneurship, finance, marketing, or business management. If your goal is to stay within the healthcare business setting, you want to consider choosing an MBA program that offers a health care management program.