6 Nurse AI Robots That Are Changing Healthcare in 2023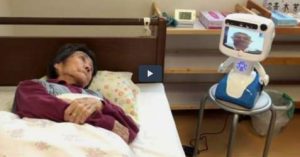 Healthcare's future has arrived, and it is becoming increasingly linked with robotics. Robotics in healthcare is gaining popularity.
According to a recent analysis by InsightAce Analytic, the worldwide robotic nurse industry is expected to grow 17.07% to reach an astonishing $2,777.61 million by 2031.
This promising rise demonstrates robotics' growing significance and potential in revolutionizing healthcare delivery. Here we delve into notable recent advancements in the field and the implications of robotics in healthcare for nurses and healthcare workers.
Meet Nurse Robots and Healthcare AI Tools
In Japan, human-like robots have been utilized for years as supplemental healthcare workers in elderly homes across the country. More recently, hospitals and healthcare facilities have started to introduce nurse robots and other healthcare AI tools.
Larger robotic machines can be used to carry out laborious physical tasks like moving patients, and smaller interactive robots are being used to combat loneliness and inactivity in the elderly population.
1. Moxi
Austin, Texas-based Diligent Healthcare was established in 2017 and has been working on Moxi ever since. Moxi is an advanced robot designed to assist healthcare teams.
The robotic assistant is outfitted with modern sensors, cameras, and artificial intelligence algorithms that allow it to autonomously roam healthcare facilities, engage with people, and complete non-patient-facing tasks such as delivering lab specimens and supplies or collecting soiled linens.
Moxi also greets patients in hallways and poses for selfies. The robot's social intelligence enables it to learn and adapt to its surroundings.
Medical City Dallas and Medical City Denton are two facilities already using Moxi, and the staff seems to love it. "I was unsure about Moxi at first, but now that I know how to use it, I really like it… it saves us a lot of time," said an employee in the radiology department.
2. Robot Nurse Bear
Meet the robot nurse bear – Japanese robotics engineers at Riken and Sumitomo Riko Labs have created a robotic bear capable of helping care for elderly patients. This bear can lift a patient from a standing position or from the floor, transfer a patient to a wheelchair, carry a patient from point A to B, and turn patients in bed.
An increasing elderly population paired with an insufficient amount of healthcare workers able to care for it makes revolutionary inventions like nurse robots incredibly helpful.
Without sufficient staffing for elderly care, more Japanese citizens are forced to leave their jobs to take care of aging family members. And those who do work in nursing and healthcare, suffer from high stress and fatigue. So Japan is looking towards robotics for help.
3. Robot Dinsow (See video: https://nurse.org/articles/nurse-robots/)
4. TUG
Aethon, headquartered in Virginia, has developed another robotic solution for hospitals. TUG is a multipurpose mobile robot used to increase efficiency in nursing, pharmacy, and laboratory tasks.
Unlike humanoid robots, TUG is a robotic cart designed to transport materials around a facility safely. It is capable of transporting medication, lab samples, and surgical supplies. It can also be used to facilitate EVS services by moving waste.
Aethon holds a Veteran's Affairs contract, and TUG is currently used in over 37 VA Hospitals nationwide.
As robotics become more prevalent in healthcare, nurses and other healthcare personnel can embrace new technology without fear of being replaced.
5. Robot Paro
Robot Paro is able to engage in simple conversations, direct group entertainment programs, and comfort shy patients with affection.
6. Robot Pepper
Pepper is another notable robot found in healthcare facilities worldwide. Created by SoftBank Robotics of Japan, this robot assists with activities such as guiding patients, giving directions, answering basic questions, and providing emotional support. Its expressive and warm manners are designed to welcome and engage patients.
This humanoid robot made headlines during the pandemic as hospitals leveraged technology to protect healthcare workers. Hospitals in Japan used Pepper to greet visitors and provide valuable information at facility entrances. French doctors used Pepper to enable COVID-19 patients to video chat with family and friends.
In Sweden, the robots provided a fun distraction for pediatric cancer patients. And in Germany, Pepper provided socialization for Alzheimer's patients.
Even technologies like the bed from Panasonic can provide revolutionary solutions for nurses. Their high-tech bed is capable of splitting into two parts, one of which turns into a wheelchair, reducing the physical burden of nurses to transfer patients. Different robotic machines are also distributing food trays, medicines, and laboratory specimens throughout hospitals with accuracy and safe handling.
How Healthcare Robots Help Nurses 
Robotic assistants in healthcare are not meant to replace human caregivers but rather to support them. We might think of these robots as collaborators, not replacements.
Nurses will continue to play an important role in providing compassionate care, making clinical judgments with critical thinking, and applying their experience. Meanwhile, robots can decrease stress and increase healthcare efficiency by performing simple, time-consuming, and routine tasks—freeing up nurses to perform specialized interventions.
Greater Efficiency, Better Patient Care
The potential for improved efficiency and patient care is one of the key benefits of robots in healthcare. Robotic assistants can help healthcare personnel automate simple tasks. That frees the nurse to focus on direct patient care, resulting in more timely treatment, better patient outcomes, and increased satisfaction for patients and healthcare workers.
Improved Safety Measures
Robotic systems also play an important role in safety. They are engineered with precision and accuracy in mind. As a result, they can reduce the possibility of errors in medicine delivery, dosage calculations, and repeated operations.
In addition, robots are designed with sensors and artificial intelligence algorithms that can detect falls, predict decline, and provide real-time alerts for nurses. These functions enable healthcare providers to make proactive interventions and prevent adverse events.
The pandemic highlighted the significance of infection prevention and control measures in healthcare settings. When it comes to infection control, robotic nurse assistants, like Moxi and Pepper, can help significantly reduce the danger of transmission by limiting human-to-human interaction, assuring the safety of both patients and healthcare staff.
They can also clean, disinfect, and maintain a safer environment for patients and healthcare staff.
Key Take Away
Nurses and healthcare workers should embrace technological innovations and realize their potential to increase efficiency, patient care, and safety measures. The incorporation of robotics in healthcare holds enormous promise.
Robots supplement rather than supplant the capabilities of healthcare professionals.
Familiarity with robotic systems will help healthcare workers to effectively collaborate with these technologies, maximizing their benefits and solving potential problems.
(This story originally appeared Nurse.org.)