Woman Flung from Crashed Car Lands in Front of Two Nurses Who Saved Her Life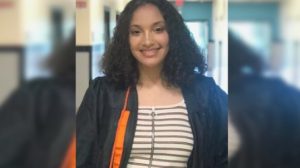 Keyarah Mendoza was driving to work on January 27 on the highway in Lawrence, Massachusetts when her car collided with a tractor-trailer merging in her lane. Her car flipped over, and the 21-year-old was ejected from the car before landing in the opposite lane. It was a horrific ordeal that could have ended her life, but Mendoza happened to land in front of a nurse, who immediately stopped to help. After a few seconds, another nurse showed up on the scene and started administering life-saving care.
Mendoza is alive and in recovery thanks to the care she received on the side of the road. And now her family is looking for the two nurses who saved her life.
"I just really appreciate the fact that the nurse was able to do what she could for her. Like there is no way I could repay her," said Keyarah's twin sister, Kaylanee.
Mendoza reportedly stopped breathing after the crash. Other cars stopped to form a wall around the nurses attending to her wounds. They managed to keep her stable until an ambulance arrived several minutes later. New reports say Mendoza suffered a traumatic head injury as a result of the crash as well several broken bones. She recently woke up from a coma nearly two months after the incident occurred.
"The fact that she had that miracle happen to her is just kind of a reflection of how good of a person she is and that she is still meant to be here and meant to be the kind person that she is," Kaylanee said.
In addition to thanking the nurses who helped Mendoza, the family has started a GoFundMe to help pay for her medical bills.
"They won't give up, they won't give up, Keyarah's fighting, she's not giving up and neither are they," said Keyarah's aunt, Jessy McMillon, of the ongoing search.
"There were two medical professionals on their way to work who quickly ran to render first aid," the family wrote online. "They performed CPR and were able to resuscitate her before the ambulance arrived. Once at the hospital emergency procedures had to be performed before she could be airlifted to a hospital in Boston that was better equipped to treat all the damages caused by the accident. Keyarah suffered severe head trauma, along with other serious injuries from head to toe. Keyarah's parents have not left her bedside since the day it happened. They eagerly wait for her to regain consciousness."
Meanwhile, the 56-year-old woman driving the tractor-trailer has been charged with negligence while operating a vehicle.
(This story originally appeared in Scrubs.)