Why Nursing Schools Turn Away Applicants Amid Staffing Shortage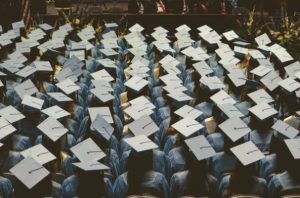 At a time when registered nurses are going on strike to protest staffing shortages, thousands of applicants who want to enter or advance in the profession are being turned away from nursing schools.
Nearly 78,200 qualified applications were not offered spots at nursing schools last year, according to the American Association of Colleges of Nursing, which represents schools with baccalaureate and advanced degree programs.
This includes nearly 66,300 applications for entry-level bachelor's degree programs. The number of applications turned away from baccalaureate programs has been higher in recent years than it was prior to 2019. (One person may submit applications to multiple schools.)
Staffing shortages are the main reason why nursing schools are not able to accept more students who want to become registered nurses. The programs are contending with a lack of faculty, clinical placements for students and preceptors who supervise the students during their rotations at health care providers. Preceptors also have strict limits on how many students they can oversee, with the ratios often set by state nursing boards.
"You can't just throw in a lot of people to expand nursing pools," said Judith Jarosinski, professor emerita at Salisbury University's School of Nursing in Maryland.
Community colleges, where students can become registered nurses after earning associate degrees, are also turning away applicants for the same reasons, said Rick Garcia, CEO of the Organization for Associate Degree Nursing, which does not track the number of applications not offered spots.
The bottleneck comes at a time when registered nurses are in high demand, especially at hospitals. While the profession has recovered from a Covid-19 pandemic-induced dip, employment has shifted away from hospitals and to outpatient clinics, doctors' offices, schools and elsewhere, said David Auerbach, visiting scholar at Brandeis University.
The staffing crisis, as well as the strenuous working conditions in the early years of the Covid-19 pandemic, has left many registered nurses — and other health care workers — feeling burned out and thinking of leaving the profession. It's a main reason why nurses around the country have gone on strike or threatened to recently.
Staffing shortages are also a major factor in the current strike by more than 75,000 unionized employees, including registered nurses, at Kaiser Permanente. It's the largest health care worker strike in US history.
The need for nurses is only going to grow as America ages. There were nearly 3.2 million registered nurses on the job in 2022, according to the Bureau of Labor Statistics. Employment is projected to grow by a faster-than-average 6% between 2022 and 2032, translating into about 193,100 openings annually, on average, over that period, according to the bureau.
Faculty shortages
Nursing schools have nearly 2,000 full-time faculty positions to fill, according to the nursing college association. Just under 8% of the teaching slots are vacant.
But those figures don't reflect the shortage of part-time faculty and clinical educators, who play a crucial role in nursing schools, said Cynthia McCurren, who chairs the association's board and serves as dean of the School of Nursing at the University of Michigan-Flint.
Part of the problem is there's a dearth of nurses with advanced degrees, particularly on the doctoral level, which many schools require or prefer in order to be considered for employment. The Covid-19 pandemic also interrupted many nurses' efforts to pursue graduate education because they were needed on the job, McCurren said.
Plus, the faculty at nursing schools skews older, and many have retired in recent years, she said.
One of the biggest obstacles to hiring more educators, however, is the salary, said Jarosinski, who interviewed administrators from community colleges and universities in the mid-Atlantic region for a 2021 study about the faculty shortage. She described wages as the "elephant in the room" when it came to recruitment and retention.
The national median salary for nursing school professors with master's degrees is just under $89,000, according to the nursing college association. But the median salary for advanced practice registered nurses, who hold graduate degrees, is $120,000, according to the 2022 Nurse Salary Research Report issued by Nurse.com, which the association cites as a comparison in a fact sheet. The figures can vary by region of the country.
"We just can't keep up with the salaries on the education side with what they're able to earn on the practice side," McCurren said.
Insufficient opportunity for clinical placements
Another barrier to admitting more nursing students is the limited availability of clinical rotations at hospitals or other health care providers, as well as the lack of experienced nurses and other medical professionals to supervise the students.
Many hospitals are experiencing their own staffing shortages and are relying on short-term contract nurses or travel nurses. This reduces their capacity to train students, said Marie Ann Marino, dean of the Thomas Jefferson University College of Nursing in Philadelphia.
"They don't have the bandwidth to support the training," she said, noting that the Covid-19 pandemic exacerbated the challenges in placing students. "They want students to come and train, but the environment may not be conducive to clinical training."
It's particularly difficult for nursing schools that are not connected to hospital systems to find placements for their students, she said.
Efforts underway to recruit more nursing faculty
Recognizing the urgent need to train more nurses, the US Department of Health and Human Services announced in August that it will pump an additional $26.5 million into the Nurse Faculty Loan Program, which provides low-interest loans to those studying to be nursing school faculty and the cancellation of up to 85% of loans for those who work as full-time faculty after graduation.
Many schools are also trying to come up with ways to attract and train more faculty members.
In Maryland, three Salisbury School of Nursing professors created the Faculty Academy and Mentorship Initiative in 2011 to help prepare experienced registered nurses to become clinical nursing faculty and to advance the skills of current educators.
Participants attend six-week programs run by the initiative, which is now a collaborative effort among several nursing schools in the state and is funded by the Maryland Higher Education Commission. They also agree to teach at least one clinical section a year for two years.
"They get a chance to see what it is to be an educator," said Jarosinski, who hired the initiative's graduates as part-time faculty in the courses she taught before retiring in 2021.
At Jefferson College of Nursing, Marino has forged closer ties with Jefferson Health, a network of 18 hospitals and physician practices. The health system can accommodate the school's students, even as enrollment has grown in the undergraduate program by 30% over the past five years.
At the same time, the college is drawing nurses from the health system into its advanced degree programs and then supporting them to become faculty. It is working on increasing tuition reimbursement for nurses who study at Jefferson and has created virtual graduate-level classes so nurses can work their shifts and complete their schoolwork at times convenient for them.
The increased partnership with the health system has helped the nursing school grow its full-time faculty by 22% and bolster its clinical instructor ranks. And it's allowed Jefferson to accept more students, boosting its admissions rate to 52% for the last school year, up from 46% five years earlier.
"We really believe our success is tied very intricately to one another," Marino said.
(This story originally appeared on ABC17news.com via CNN.)