Walk the Walk With Us!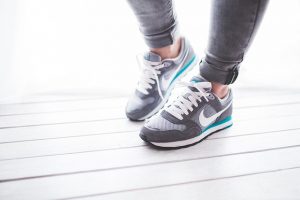 The Healthy Nurse, Healthy New Jersey Team is walking in two walks this year. Please join us! Any New Jersey nurse who participates in either walk will get a Healthy Nurse, Healthy New Jersey t-shirt. The Light the Night walk will take place in Cherry Hill on Oct. 5 and the Walk to End Alzheimer's will take place in Succasunna on Sept. 22.
A walking regimen has tremendous health benefits, and you don't need fancy equipment to incorporate this type of physical activity into your life. Walking is easy, and it can be performed anywhere at any time. It can also help you get physically fit and improve your emotional wellbeing. Because of this, the American Heart Association (AHA) says walking is the most popular form of exercise.
Since walking is an easy way to make you a healthier nurse, will you join the Healthy Nurse Healthy New Jersey (HNHNJ) team on our Walk to End Alzheimer's on Sept. 22 in Succasunna and/or on our Light the Night walk on Oct. 5 in Cherry Hill? Exercising with a group of likeminded people such as New Jersey nurses is healthy for your mind, body and spirit, especially if you're walking for a cause, and we expect these events to be lots of fun! Any New Jersey nurse who joins us for one of these walks will receive a New Jersey Healthy Nurse t-shirt. If you aren't able to join us for either walk, please consider donating through our team pages. Our team name is Healthy New Jersey Nurses:
We hope to see you there!
Happy Trails to you, Healthy Nurses!
Reference:
Why is Walking the Most Popular Form of Exercise? (n.d.). Retrieved July 16, 2019, from https://www.heart.org/en/healthy-living/fitness/walking/why-is-walking-the-most-popular-form-of-exercise