U.S. Antibiotics Awareness Week 2020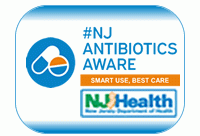 The New Jersey Department of Health (NJDOH) Communicable Disease Service (CDS) invites you to join us for the U.S. Antibiotics Awareness Week (USAAW20), November 18-24, 2020. Once again, NJDOH is a state partner to assist in the dissemination of messages and materials to raise awareness of one of the world's most serious public health threats. Click here for easy ways your agency can participate in USAAW20!
CDC Partner Toolkit
Check out the CDC's USAAW Be Antibiotics Aware Partner toolkit containing key messages, social media content, graphics, and more to help you and your organization prepare for USAAW. Be on the lookout for a calendar of events that will be posted on the USAAW partner toolkit soon! Find the toolkit here.
Educational Materials
A variety of educational materials for public and professional audiences can be found at the NJDOH antibiotic resistance website or at the Centers for Disease Control and Prevention website and here.
Social Media
Check us out on social media and be sure to "like," "retweet," "share," and post along with us!  Use the hashtags #NJAntibioticsAware, #USAAW20 and #BeAntibioticsAware so that we are able to track our social media presence.
Website Widget
Place the #NJAntibioticsAware widget on your agency's website homepage to steer visitors to our educational materials.  Code for the widget can be found here.