Sweet News, Healthy Nurses!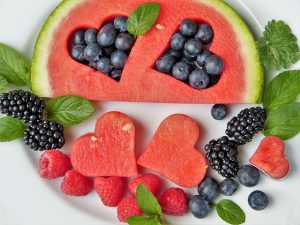 Let's face it, giving up sugar can be downright challenging. It's easy to spot sugary items such as soda, candy and other processed treats, but keep in mind sugar is lurking in foods items such as ketchup, barbecue sauce, pasta/marina sauce (this is why pizza is so addicting!), yogurt, etc. Make sure you're reading the labels on all food items and paying close attention to the amount of "added sugars."
Here's a tip: Ingredients on food labels are listed in descending order of predominance by weight. What does that mean? The ingredient listed first weighs the most, so if sugar is in the top five ingredients, it may be time to reconsider purchasing that item. There are also several names for added sugars:
'Short' List: Names for Added Sugars
Agave
Grape sugar
Barley malt
High fructose corn syrup
Beet sugar
Honey
Brown rice syrup
Invert sugar
Brown sugar
Lactose
Cane sugar
Maltodextrin
Caramel
Maple syrup
Carob syrup
Maltose
Coconut sugar
Molasses
Corn syrup
Palm sugar
Dehydrated cane juice
Raw sugar
Dextrin
Rice syrup
Dextrose
Saccharose
Evaporated cane juice
Sorghum syrup
Fructose
Sucrose
Fruit juice concentrate
Treacle
Galactose
Turbinado sugar
Glucose
Xylose
If it's absolutely impossible for you to give up sugar, let's take a look at some "SUGAR SWAPS" or low-sugar items to help you face those cravings head on.
Craving ice cream? There are lots of low-sugar options at your local supermarket. Some of the tastiest brands are:
SO DELICIOUS Dairy Free: One serving of vanilla, one gram of sugar.
ENLIGHTENED: One serving of vanilla, only 3g of sugar.
HALO TOP: One serving of vanilla, 6g of sugar.
Another alternative is to make Banana "Nice" Cream:
• 2 bananas frozen
• 1 Tablespoon nut butter (peanut, almond or cashew)
• 1/4 cup milk (almond, cashew or coconut)
• Optional: Strawberries (or other frozen fruit)
Place all of the ingredients in a blender or food processor and pulse until you have the consistency of ice cream. Spice up the flavor profile by adding nuts, berries or toasted coconut chips.
Craving soda? Fermented beverages are a great alternative. Not only are these beverages tasty, but they have probiotics (yay, for a happy gut microbiome). Some low-sugar options with a great flavor profile are:
KEVITA SPARKLING PROBIOTIC: Mojita Lime Mint Coconut
KEVITA SPARKLING PROBIOTIC: Strawberry Acai Coconut
KEVITA SPARKLING PROBIOTIC: Lemon Ginger
Craving chocolate? Grab a bar of raw dark chocolate. Trader Joe's is a great place to stock up on dark chocolate for a reasonable price. For example, you can try the Dark Chocolate Orange Sticks—so delicious and they pack a flavor punch!
Craving juice or a flavored iced tea? Try flavored herbal teas instead. You can pop these in the fridge and enjoy the thirst-quenching flavor later.
Visit us on our Facebook page at New Jersey State Nurses Healthy Nurse and share your SUGARY SWAPS! Also, write us at healthynurse@njsna.org and tell us how you satisfy your sweet tooth for a chance to win the recipe book Naturally Sweet by Miranda Chaput!
Cheers to knocking out those cravings,
Terri-Ann Kelly, Munira Wells and the Healthy Nurse, Healthy New Jersey Team