Satisfy Your Sweet Tooth in a Healthy Way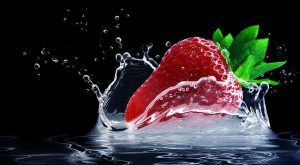 Now that the new year is well on its way, are your new year resolutions starting to chafe? Are you struggling to shake off the visions of sugar plums dancing in your head?
From Valentine's Day to St. Patrick's Day, we are moving from one celebration to another. And along with celebrations comes the need to indulge. Is it possible to strike a balance between treating oneself and overindulgence? My indulgence is my sweet tooth. Here are some healthier options for having your sweet treats and eating them too:
Fruits: Yes, fruits have sugar but natural sugars trump processed sugars any day. If you choose wisely, low-sugar fruits such as berries will satisfy your sweet cravings and give you the added bonus of fiber, vitamins, minerals and water. Feeling super indulgent? Stuff raspberries or hulled strawberries with mini semi-sweet chocolate chips. Yum!
Combine protein with your sweet treat: As a diabetic, my husband has to be super careful about his sweet treats. One trick he learned from his dietician is to add protein if possible. A few slices of apple or half a banana with peanut butter can satisfy your sweet tooth without making you sluggish. Check the labels. You want peanut butter that has no added sugar.
Savor your dessert: You read it right. Don't deprive yourself. Splurge on a decadent treat on occasion. The trick is to manage the portion size and eat something that is satisfying. Try this recipe for mini dark chocolate peanut butter cups with just four ingredients (from Love in My Oven).
Melt together 3 ounces of chopped 90 percent dark chocolate* and 1/2 cup coconut oil. Whisk in 1/4 cup cocoa powder until smooth. Add one teaspoon to each section of a 24-count mini muffin tin lined with paper cups. Place in freezer to harden (about 5 minutes). Layer with about 1/2 teaspoon each of no-sugar peanut butter. Cover with remaining chocolate (about 1/2 teaspoon each). Freeze until hard (about 10 minutes). Sprinkle with a hint of sea salt and enjoy your delicious bite. Store in freezer. For the full recipe, visit https://loveinmyoven.com/dark-chocolate-mini-peanut-butter-cups/
Hydrate! Hydrate! Hydrate!: Sometimes we reach for something to munch on because we are dehydrated. Keep a bottle of water, infused with berries, apples, citrus or cucumber by your side. The occasional sip will leave you feeling refreshed and curb your cravings.
*Visit Healthy Nurse, Healthy New Jersey on our Facebook page at New Jersey State Nurses Healthy Nurse and share your favorite healthy sweet indulgences. Also, write to us at healthynurse@njsna.org and tell us how you satisfy your sweet tooth for a chance to win the recipe book Naturally Sweet by Miranda Chaput!
With a thimble full of honey,
Munira Wells, Terri Kelly and the Healthy Nurse Healthy New Jersey Team