RN Salary Review: How Much Do N.J. Nurses Make in 2022?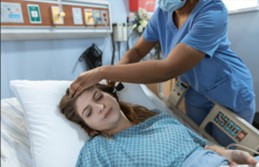 New Jersey is the 9th highest paying state for RNs. Learn more about salaries, cost of living, and the many cultural attractions of life in "The Garden State."
New Jersey ranks ninth among the highest-paying states for RNs in the U.S. For prospective and current nurses who live in or are planning to move to The Garden State, registered nurse salaries and the cost of living in New Jersey are important factors to consider.
This state borders New York, Pennsylvania, and Delaware and features a median annual registered nurse salary of $94,690. With a projected RN employment growth rate of 11.3% from 2018-2028, there are many positives to consider regarding the profession in New Jersey.
The average RN salary in New Jersey is $89,690, with an average hourly rate of $43.12. RN salaries in NJ range from $70,920 per year and $34.10 per hour among the bottom 10th percentile to $117,990 per year and an hourly rate of $56.73 for the top 90th percentile. The median pay for these professionals in New Jersey sits at $94,690.
We adjust salaries for cost of living figures based on the regional cost of goods and services, including education, housing, medical care, transportation, and other factors.
With the third-highest cost of living in any state at 111.2, the cost of living is 11.2% higher than the national average. Adjusted for cost of living, the average RN salary in New Jersey is $79,645, which lands NJ at 18th among all 50 states.
In the state capital of Trenton, RNs enjoy an average salary of $86,330, close to the state average of $89,690. Capital Health is Trenton's local Magnet facility.
Trenton is 33 miles from Philadelphia, a major hub with excellent sports and music venues, world-class museums, restaurants, and other cultural highlights. New York City is 64 miles to the north, with legendary restaurants, Broadway theaters, and other exciting attractions.
Atlantic City, made famous by its casinos and featured in many movies, has an average RN salary of $84,550. AtlantiCare Regional Medical Center is Atlantic City's Magnet hospital. Having Philadelphia, New York City, and Washington, D.C. within reach can also make it a very attractive place to live and work. Explore the top-paying cities for RNs in New Jersey below.
To increase a registered nurse salary in New Jersey, professionals can consider earning certifications or higher degrees, such as MSNs. As a state with a large population sitting between large cities such as Philadelphia, New York, and Washington, D.C., the cost of living in New Jersey is high. However, New Jersey offers competitive nursing salaries, access to some of the best cultural attractions in the country, and many miles of beaches along the famous Jersey shore.
(This story originally appeared in NurseJournal.org.)