Penn. Nurse Saves Life of 20-Month-Old Fla. Boy by Donating Part of Her Liver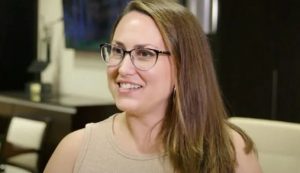 A 20-month-old Florida toddler with a genetic disorder now has a second chance at life thanks to the kindness of a Pennsylvania nurse.
Logan Salva of Ocala, Florida, received a life-saving donation, Good Morning America reported, after Makenzie Beach — a cardiology nurse at UPMC Hamot — stepped up to help.
Salva had been diagnosed with Alagille Syndrome, a rare genetic mutation in which bile accumulates in the liver due to few bile ducts that allow for drainage, resulting in liver damage. Among the symptoms of Alagille, according to Johns Hopkins, include yellow skin or eyes and kidney disease.
Rather than waiting for a transplant in Florida, Logan's family looked into a pediatric liver transplant program at Pittsburgh's UPMC Children's Hospital, per WTAE.  A miracle for the family happened thanks to Beach, who signed up to be a living donor and donated a part of her liver to Logan.
"I just felt like it was the right thing for me to do," Beach said in an interview, per Erie News Now. "I couldn't ask to be part of something bigger or better than this. This is like a real miracle."
"I was in a position with my health, and I have plenty of support, that I could do this, and I didn't see any reason why I wouldn't want to," she added, according to Good Morning America. "A month of inconvenience seemed like a very, very small price to pay."
According to the American Liver Foundation, living transplantation involves replacing a diseased or damaged liver with a whole or part of a healthy liver from a different person, adding "both the donor's and recipient's liver will regrow over the next few months."
Logan's surgery was performed in early June. George Mazariegos, UPMC chief of pediatric transplant, told WTAE: "The great thing about the living donation is that we are able to take a perfectly healthy segment of the liver in a plant situation and really be able to optimize his chance for a really great recovery."
A few months after the surgery, both Beach and Logan's family met virtually. Logan appeared in the video chat smiling. They expressed their gratitude to Beach for her donation.
"You get the news that a complete stranger is a perfect match for your baby," said Rasika Marletto-Salva, Logan's mother, per WTAE, "and you're sitting here like, who could it be? It's something you dreamed and prayed for such a long time, so to be able to meet Makenzie, it's incredible. It's truly a gift."
(This story originally appeared in Yahoo!News.)