Parish Nurses Devoted to Online Learning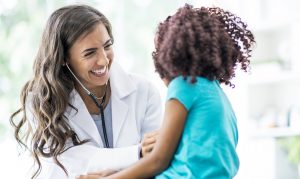 Barbara Gallagher has passionately served the parish community at Woodbury's Holy Angels Parish for the past three years as one of its three volunteer nurses, helping to organize flu vaccine clinics, blood pressure screenings, blood donor drives and cultivating face-to-face relationships with the faithful.
Then COVID-19 hit, and the playbook was thrown out.
As churches throughout South Jersey shut down, and personal interactions and parish events became reduced, scarce or nonexistent, she and her colleagues have found themselves navigating an uncertain landscape.
Hope came in last month's "Foundations of Faith Community Nursing" certification course. In the twice-weekly, three-hour ZOOM sessions in the month of October, Gallagher has better understood the role of a faith community nurse and learned from "those who've been doing this for a while."
Approved by the New Jersey State Nurses Association for continuing education credit and supported by Bishop Dennis Sullivan, the course prepares nurses to "assist the parishioners of their faith community to maintain and/or regain wholeness in body, mind, and spirit," says Jo Anne Farrell, RN, lead instructor for the Foundations of Faith Community Nursing course.
These individuals are "health promoters, health educators, health coaches and, most importantly, Missionary Disciples" who bring "counseling, prayer, presence, active listening, advocacy" to their work, she says.
Last Saturday's commissioning ceremony "brought full-circle what (students have) learned—they're ready to bring it back to their parishes," says Nicole Keefer, Director of Parish Nursing, VITALity Catholic Healthcare Services. Now, in pandemic time, "they are getting creative," Keefer adds.
Social distancing rules now mean check-in phone calls to parishioners, virtual health presentations and bulletin blurbs on combating COVID-19.
The nurses can be described as faithful, hopeful and adaptable.
Even though the course is complete and she is certified, Gallagher's education continues.
She says they have "kept the conversations going," on formulating effective strategies for their own communities and keeping faithful informed and healthy. "The course was a great starting point."