Nursing Associations Connect You to Fellow Pros, Valuable Resources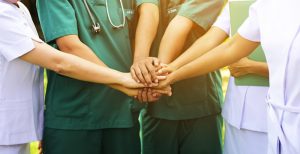 Regardless of specialty or skill level, nursing associations are an ideal resource for professional growth, networking, and lifelong learning. Associations exist for a variety of interests and career paths and can help you connect with fellow professionals and obtain new certifications. Many associations offer research grants, scholarships, and award programs to help nurses recognize their peers. What are you waiting for? Join a nursing association and broaden your career today!
New Jersey State Nurses Association (NJSNA)
Representing more than 110,000 registered nurses, the New Jersey State Nurses Association offers a number of ways for nurses to get involved through advocacy, legislation, and networking. A Career Center allows nurses to easily search jobs, while the association's Institute for Nursing provides scholarships to high school students aspiring to be nurses. The association also offers scholarships to nurses at the RN and doctorate levels.
Ambulatory Care
American Academy of Ambulatory Care Nursing (AAACN)
Created in 1978 as a nonprofit educational forum, the AAACN works expand the reach of ambulatory care nurses to achieve a greater positive impact for patients. The organization offers several professional development outlets, including an annual conference, online resources, webinars, and a career center. The association also provides study resources and member savings on certification exams. Scholarships and grants are available to nurses and student nurses at multiple levels.
Anesthesia
American Association of Nurse Anesthesiology (AANA)
Boost your learning and professional development with the CRNA Knowledge Network, offering CE courses and other resources. The association also offers volunteer opportunities and a Member Advantage Program with a variety of benefits, including savings on practice tools and student loan debt consolidation or refinancing.
Assisted Living/Rehabilitation
American Assisted Living Nurses Association (AALNA)
Representing assisted living RNs, licensed practical nurses, and licensed vocational nurses, the AALNA works to promote safe, effective, and dignified nursing practice in assisted living, in an era when the number of older adults needing this type of care is increasing. Among professional development opportunities are an annual conference, webinars, and training resources.
Critical Care
American Association of Critical-Care Nurses (AACN)
The AACN promotes lifelong learning and professional growth. Members also grow professionally through national conferences, a webinar series, and certification programs geared toward nurses who care for high acuity and critically ill patients. The association offers continuing/professional scholarships  and a scholarship to attend the American Association of Critical-Care Nurses' National Teaching Institute & Critical Care Exposition.
Dermatology
Dermatology Nurses' Association (DNA)
Founded in the 1980s following the creation of the first education program for dermatologic nursing, DNA has a vision of becoming the global authority in the field. The nursing association offers certification resources, advice, and connections for professional growth. The association also provides awards to recognize fellow members as well as a scholarship program and grant opportunities.
Diversity
National American Arab Nurses Association (NAANA)
Created in 2003, NAANA serves as a voice, network and resource for Arab American men and women in their pursuit of employment and advancement within the nursing profession. Members can earn contact hours at continuing education events and seminars, network, and access online job postings. The association provides annual scholarships of between $500 and $1,000, depending on funds available.
National Black Nurses Association (NBNA)
Organized in 1971 and incorporated in 1972, NBNA represents about 200,000 African American nurses. The association's mission includes providing a forum for black nurses to advocate for and implement strategies to ensure access to the highest quality of healthcare for persons of color. For student nurses and members, NBNA offers a Collaborative Membership Program. Members can receive recognition through the NBNA Nurse of the Year Awards and more than a dozen scholarships are available ranging from $1,000 to $6,000.
National Association of Indian Nurses of America (NAINA)
With a primary goal of uniting all Indian nurses and nursing students of Indian origin at a professional level, NAINA has a variety of resources. These include educational activities, mentorship, and community education. A $300 scholarship is awarded to an eligible undergraduate or associate degree nursing student of Indian heritage from United States and a nursing student from India during the Biennial conference of NAINA.
Chinese American Nurses Association (CANA)
facebook.com/ChineseAmericanNursesAssociation
Founded in New York, NY in 1987, CANA's mission is to recognize professional Chinese American nurses, and carry out activities on their behalf while promoting quality healthcare in the community. A scholarship fund provides financial support to undergraduate, graduate, and doctoral level nursing students who are of Chinese heritage and demonstrate a strong commitment to nursing and Chinese American health. Nurses also receive networking and mentorship opportunities to develop professionally, as well as continuing education workshops.
Philippine Nurses Association of America (PNAA)
Promoting professional excellence and contributing significant outcomes to healthcare and society are part of the mission of PNAA. The association supports members through a Career Center, education and networking opportunities. An annual scholarship of $1,000 per semester—$2,000 total—is offered to a graduate student currently pursuing a master's degree in nursing, a post master's degree, or doctoral degree.
National Association of Hispanic Nurses (NAHN)
Dedicated to promoting safe, quality health care delivery to Latino communities and individuals  and recognizing the accomplishments of Latino nurses, NAHN provides a variety of resources to members, including networking and mentoring opportunities, webinars and an NAHN Journal offering nurses the chance to submit manuscripts and become published authors. Nurses can recognize each other through several awards, including the NAHN Latino Legacy Award and the NAHN Nurse of the Year. A number of scholarships also are available, including a scholarship through the United  Health Foundation Diverse Scholars Initiative that awards $5,000 for three consecutive years.
Education
Sigma Theta Tau
Founded in 1922 by six nurses at the Indiana University Training School for nurses, Sigma Theta Tau International Honor Society for Nursing, now known as Sigma, is open to baccalaureate and graduate school nurses who have demonstrate excellence in scholarship. The organization also is open to nurse leaders who exhibit exceptional achievements in nursing. Nearly 40% of the 135,000 active members hold master's and/or doctoral degrees; 51% are in staff positions; 19% are administrators or supervisors; 18% are faculty/academics; and 12% are in advanced practice.  Scholarship funding of up to $5,000 per academic year is available to students enrolled in either an Accelerated Second Degree or Doctor of Nursing Practice program at an accredited US school of nursing.
National Student Nurses' Association (NSNA)
Students pursuing licensure as RNs receive mentoring and support through NSNA, which also is open to nurses enrolled in baccalaureate completion programs. The association offers a career center where students can prepare for the NCLEX-RN exam, along with career planning guides and featured nursing schools and hospitals. An undergraduate scholarship program also is available with two distinct scholarships—General Nursing Program and Promise of Nursing Program. Members also have the opportunity to publish articles and participate in a variety of activities, including health policy and advocacy committees.
American Association of Colleges of Nursing (AACN)
The national voice for academic nursing, the AACN represents more than 800 schools. A variety of awards and resources are available to students, including scholarships, a virtual career fair and a PhD-DNP Collaboration Excellence Award. Students also can apply to multiple nursing schools with one application. Other awards include member and faculty nominated awards and board nominated awards. Conferences, webinars, modules, an AACN Online Learning Center are available for professional development.
Emergency Nursing
Emergency Nurses Association (ENA)
Advocating for patient safety and excellence in emergency nursing, the ENA has a strong focus on collaboration and lifelong learning. This is clear in the association's ENA Learn program, providing a wide catalogue of CE options. The association also offers a variety of awards—the Lantern Award for emergency departments, the State Council Achievement Award, Achievement Awards, and the Journal of Emergency Nursing Award. Scholarships also are available for members and non-members seeking education from associate to doctoral degrees.
Gerontology
Gerontological Advanced Practice Nurses Association (GAPNA)
Among the goals of GAPNA are advocating for quality care for older adults, promoting professional development and educating the public on the issues of aging. Members benefit from a variety of resources, including an online forum and Career Center. The association's website also offers a special section for students featuring information on student friendly conference sessions, publication discounts and scholarships, including awards and grants ranging from $2,000 to $5,000.
Holistic Nursing
American Holistic Nurses Association (AHNA)
With a number of holistic nurses specializing in one or more complementary, alternative, or integrative healing modalities, the AHNA sets out to help members maintain qualifications to practice their specialty. Professional development opportunities include continuing education, annual conference and discounts and approval for individual activities and events. Nurses can pursue a variety of scholarships and awards including a research grant, Holistic Nurse of the Year, Holistic Nurse Rising Star Award, Lifetime Achievement Award, and an Excellence in Holistic Nursing Education Award. The association also provides an award for implementing self-care activities.
Home Care
International Home Care Nurses Organization (IHCNO)
Created in 2009, the IHCNO aims to support the nurses who provide care to patients who remain in their homes. Home care nurses can expand their knowledge and grow their network by participating in research opportunities through the association. Members can also benefit from webinars and other resources.
Informatics
American Nursing Informatics Association (ANIA)
Improving the health of populations, communities, families, and individuals through the use of informatics, the ANIA encourages professional networking with ANIA Connect. The online resource allows nurses to collaborate and communicate while fostering camaraderie and support through an Open Forum. Informatics nurses also can expand their education through an annual conference and webinars.
Leadership
American Nurses Association (ANA)
The leading nursing organization representing 4 million nurses in the U.S., the American Nurses Association's mission is to advance the profession to improve healthcare for everyone. A wide selection of support programs, resources and award and scholarship opportunities are available through the ANA Foundation. Nurses can nominate colleagues with the Honor a Nurse Program and pursue leadership activities and grants. American Nurse Scholarships were created in 2013 through funding from Fresenius Kabi USA, Carolyn Jones and DigiNext LLC, with proceeds from book "The American Nurse: Photographs and Stories" by Jones and her film "The American Nurse: Healing America." Career development opportunities also are available through the American Nurses Credentialing Center, which credentials both organizations and individuals who advance in nursing.
American Organization for Nursing Leadership (AONL)
Serving nearly 10,000 nurse leaders, the American Organization for Nursing Leadership offers resources for aspiring nurse leaders, established directors and seasoned executives. Members have access to a number of professional development and educational tools to help them succeed, including an Emerging Nurse Leader Institute, a Nurse Manager Institute, fellowship programs, finance and business programs, webinars and an annual conference.
National League for Nursing (NLN)
The premier organization for nurse leaders and educators, NLN offers professional development, networking opportunities, testing services, nursing research grants, and public policy initiatives to its 40,000 individual and 1,200 institutional members. The NLN Foundation for Nursing Education helps fund faculty scholarships and a scholarly writing retreat.
Licensed Practical Nursing
National Association of Licensed Practical Nurses (NALPN)
LPNs provide care for the ill, injured, disabled, or convalescing. They perform everything from basic nursing and medical care to basic diagnostic tests and other procedures, depending on training and their particular state's Nurse Practice Act. NAPLN members can access certification programs, attend an annual conference, and apply for multiple awards, including the Lilian Kuster Award and LPN of the Year award, along with other recognition for themselves and fellow nurses.
Medical/Surgical
Academy of Medical-Surgical Nurses (AMSN)
With 12,000 members, the AMSN encourages med/surg nurses to use their powerful voices and focused action to improve patient care. The academy offers a Career Mobility Scholarship for members wanting to pursue higher education and several grant programs to grow professionally at all levels. These include the Certified Medical-Surgical Registered Nurse (CMSRN) Certification Grant, Certified Medical-Surgical Registered Nurse (CMSRN) Recertification Grant and a Convention Grant, which helps members expand their knowledge by attending the ASMN annual convention. A Nurse in Washington Internship Grant also is available along with research grants.
Men in Nursing
American Association for Men in Nursing (AAMN)
With shaping the practice, education, research, and leadership for men in nursing as its mission, the association also provides multiple levels of membership to RNs, student nurses, high school students, retired RNs and more. AAMN offers educational scholarships funded by AAMN members and select donors. Teaching materials, webinars and a career center also are available.
Military
The Army Nurse Corps Association, Inc. (ANCA)
Dedicated to the Army Nurse Corps and its officers, the ANCA supports the advancement of military nursing and knowledge through supporting certification, research, grants, and scholarships. Criteria for scholarships include being currently enrolled in an accredited baccalaureate or advanced degree nursing or nurse anesthesia program who are serving or have previously served in any branch, at any rank, of a component of the US Army—active Army, Army National Guard, or Army Reserve. Nursing or anesthesia students whose parent(s), spouse, or child(ren) have current or previous service in a component of the US Army also qualify.
Nurses Organization of Veterans Affairs (NOVA)
A nationwide nonprofit professional organization, NOVA serves nurses who work for the Department of Veterans Affairs Medical Centers and Clinics. Career development resources include webinars, mentorship, networking, and a legislative toolkit for nurses interested in advocacy. Awards include a NOVA President's Award and excellence awards for LPNs/LVNs, RNs, and APRNS as well as a Distinguished Chapter Award. Scholarships are available for nurses enrolled in diploma, associate, baccalaureate, masters, and doctoral nursing programs.
Society of Air Force Nurses (SAFN)
Members of SAFN are RNs who serve or have served in the USAF Nurse Corps (Active Duty/Reserve/Guard) or as WWII Flight Nurses. Membership includes veterans of World War II (some were Prisoners of War), the Korean War, Vietnam, the Gulf War, Operation Enduring Freedom (Afghanistan), and Operation Desert Shield/Storm (Iraq). Conventions are held every two years to help members grow professionally. Networking opportunities also are available as well as a biannual newsletter.
Neonatal Nursing
Academy of Neonatal Nursing (ANN)
Among benefits of joining the 6,000 nurses who belong to ANN are 15-plus free hours of CNE credit, a conference discount, and a variety of online resources, including a webinar series offering the latest topics on neonatal care. ANN members enrolled in an educational program seeking an undergraduate or graduate degree in neonatal nursing or a related nursing major are encouraged to apply for The Academy of Neonatal Nursing Ingrid Josefine Ridky Academic Scholarship. Members active in the care of neonates who maintain a current knowledge base also can apply to receive funding to attend the National Neonatal Nurses Conference. An Academy of Neonatal Nursing Excellence in Neonatal Nursing Practice Award is available to recognize nurses who strive for the best patient care.
Nephrology
American Nephrology Nurses Association (ANNA)
Supporting nurses who care for adult and pediatric patients with kidney disease, the ANNA offers members the chance to recognize fellow colleagues. Nurses can nominate each other for Outstanding Achievement Awards and apply from a wide selection of scholarships and research grants. Online educational programs, conferences and other activities promote lifelong learning among nephrology nurses.
Nurse Practitioners
American Association of Nurse Practitioners (AANP)
With an impressive membership of 100,000, the AANP is critical to championing the voice of NPs as they become an increasingly popular choice among patients. The association partners with corporations and organizations to support more than 270,000 NPs nationwide. Members receive access to the AANP CE Center to expand their professional development, discounts on the AANP conference and the American Academy of Nurse Practitioners Certification Board applications. Scholarship opportunities also are available to help aspiring nurse practitioners succeed, along with grants and awards supporting research for both working NPs and graduate students.
Occupational Health/Rehabilitation
American Association of Occupational Health Nurses (AAOHN)
Advocating for occupational and environmental health nurses in business, hospitals, government, and other professional areas, AAOHN offers a forum to members for real-time advice, as well as a career center and legislative affairs advisory group. The AAOHN Foundation provides scholarships in leadership, professional development, and education.
Obstetrics/Gynecology
Association of Women's Health, Obstetric and Neonatal Nurses (AWHONN)
With a mission to support nurses caring for women and their families through research, education, and advocacy AWHONN offers a variety of benefits. These include educational programs, certification opportunities and professional development resources. Scholarships include Every Woman, Every Baby-Perinatal Orientation and Education Program Scholarship and Every Woman, Every Baby-Neonatal Orientation Program Scholarship. Research grants also are available. The association also provides membership opportunities to students, along with helpful tools to help decide whether to pursue a career in obstetric or neonatal nursing.
Orthopedic Nursing
National Association of Orthopaedic Nurses (NAON)
Boasting a membership of more than 5,000 RNs, LPNs, LVNs and student nurses, the NAOP works to advance orthopedic nursing through excellence in research, education, and nursing practice. Nurses can enhance their skills and connect with other professionals through practice and research resources, a clinical practice library, webinars, and an Issues in Practice discussion forum. A career center also is available, along with an annual meeting, multiple scholarships and opportunities to participate in community outreach and volunteerism.
Palliative Care
Hospice and Palliative Nurses Association (HPNA)
A community of more than 10,000 healthcare professionals dedicated to advancing expert care in serious illness, the HPNA has more than 50 chapters nationwide. Members have access to online courses and continuing education credits, as well as exclusive networking opportunities and resources. Several scholarships are available for a variety of areas, including nurse leadership, education and advancing the profession, as well as research grants.
Pediatrics
Association of Pediatric Hematology/Oncology Nurses (APHON)
Supporting nurses who care for pediatric patients with cancer and blood disorders, the APHON has a wide range of programs and incentives to promote lifelong learning and career growth. Among them is an APOHN Member Connections site with an open forum, continuing education center, volunteer opportunities and other resources. The association also offers awards for mentoring, distinguished service, leadership, excellence, education, writing and research. Scholarships are available for nurses who want to make a positive impact in healthcare through the legislative process and nurses wanting to attend the Annual Assembly presented by the American Academy of Hospice and Palliative Medicine (AAHPM) and the Hospice and Palliative Nurse Association (HPNA).
National Association of Pediatric Nurse Practitioners (NAPNAP)
More than 9,000 members make up this organization dedicated to supporting PNPs and APRNs through leadership, advocacy, professional practice, education, and research. Student NPs can become NAPNP Student Ambassadors and receive free membership. Student webinars also are available along with certification exam resources. Education grants also are offered and PNPs can develop professionally by taking part in advocacy campaigns focused on child health issues, participate in research, and make connections through the Career Connection Job Center.
Society of Pediatric Nurses
SPN looks to be the leader in promoting career advancement for pediatric nurses and improve outcomes by ensuring global pediatric standards of care and clinical practice guidelines are integrated into healthcare. Members can complete continuing education activities through the SPN Online Education Center and participate in discussion forums and webinars. Research and evidence-based practice grants also are available, along with excellence awards and distinguished service and humanitarian awards. To help members meet their academic goals, academic scholarships are awarded annually, as well as a conference scholarship to help nurses grow professionally by attending the annual SPN conference.
Perioperative Nursing
Association of periOperative Registered Nurses (AORN)
Serving more than 40,000 professionals who share a passion for advancing Perioperative nursing, patient safety and quality outcomes, AORN provides a variety of career growth opportunities and educational resources to members. Membership is available at multiple levels, from novice nurses to nurse leaders. More than 200 free CNE contact hours are available and nurses can nominate themselves or their peers for individual achievement awards in the categories of excellence, distinguished service, outstanding achievement, and professional achievement. Grants and scholarships are available through the AORN Foundation.
Psychiatry
American Psychiatric Nurses Association (APNA)
Both graduate and undergraduate students will benefit from the APNA Board of Directors Student Scholarship, which provides 30 students one-year complimentary membership and a trip to the APNA Annual Conference. For entry-level nursing students or students attending school to expand their practice, the association also offers a $2,500 Best Nursing Degree Scholarship. The association also offers a Resource Center, Continuing Education, and a Career Center.
Radiology
Association for Radiologic & Imaging Nursing (ARIN)
The ARIN represents nurses who practice in the diagnostic neuro/cardiovascular, interventional, ultrasonography, computerized tomography, nuclear medicine, magnetic resonance, and radiation oncology. Scholarship and award opportunities include a Radiology Nurse of the Year Award, chapter award, complimentary membership registration and certification and a scholarship to advance nursing education. Radiology nurses can grow professionally with a career and job board and evidence-based practice resources, webinars, and an online CE center.
Transport Nursing
Air & Surface Transport Nurses Association (ASTNA)
Founded in 1980, the Air & Surface Transport Nurses Association (also known as National Flight Nurses Association) is a nonprofit member organization whose mission is to advance the practice of transport nursing and enhance the quality of patient care through commitment to safety and education. The association offers several awards, including the Distinguished CFRN/CTRN Award and resources for nurses wanting to earn their Certified Flight Registered Nurse or their Certified Transport Registered Nurse credential.  Members also have opportunities to participate in a variety of courses and webinars.
School Nursing
National Association of School Nurses (NASN)
Both practicing and aspiring school nurses can benefit from a wide selection of NASN resources, including E-Learning opportunities, training tools and conferences and workshops. Career and professional development opportunities are available through the NASN Career Center. Promoting a particularly specialized area of nursing, NASN advocates for a professional RN to be present daily at all schools to optimize student health, safety, and learning. Awards include Recognition and Distinguished Service awards, Special Interest Group Awards, Excellence in School Nursing and The Journal of School Nursing SAGE Writing Awards. The association also offers an extensive scholarship program with five scholarships.
Wound Care
Wound, Ostomy, and Continence Nurses Society (WOCN)
Made up of more than 5,000 healthcare experts who work with patients affected by wound and ostomy and incontinence, the WOCN is recognized worldwide for its promotion of safe and quality care in the specialty. Leading health care organizations recognize the WOCN Society as the premiere nursing specialty organization to make a positive impact to improve WOC patient outcomes. Members develop professionally through a Career Center, Continuing Education Center and website tutorials. The association even boasts its own podcast channel—WOCTalk. Scholarships are awarded through the WOCN Foundation to those committed to working in wound, ostomy, or continence nursing.