Nurse Saves US Army Captain During Mid-Flight Emergency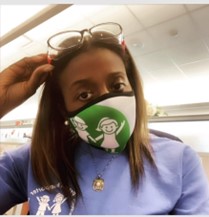 Rashon Jefferson is a part-time urgent care nurse at Children's Healthcare of Atlanta who is making headlines. The health care hero was recently aboard a Delta flight back to Atlanta when the unexpected happened.
A passenger on the flight, U.S. Army captain Brittany Hill, was feeling hot when she suddenly slipped out of consciousness.
"I asked the stewardess for some ice," Hill told 11Alive. "And the next thing I know, I woke up to a bunch of people on my face asking me if I'm okay. And how are you?"
"We hear the overhead page and they're saying 'Any medical professionals on board, please ring your call light,'" Jefferson told 11Alive.
Jefferson jumped over her seat and sprang into action.
"I will say her patient care is by far the best I've seen," Hill said. "She literally took her shirt off her back and gave me gave me her shirt to wear so I can leave the plane without throw up all over me."
Hill has since recovered, much to the relief of her health care hero.
"I'm just glad you're okay, Brittany," Jefferson said. "We were so concerned about you. Even in urgent care when patients leave us, we don't know what happens with them. We just hope that people are okay. But I was just very thankful to be there and to be able to help her and that she's doing good. So glad to see you."
Hill was quick to offer her thanks to the Children's Healthcare of Atlanta urgent care nurse.
"I just want to say thank you again," Hill said. "It was great. Really appreciate the care that you and the whole team did. It was amazing. And just a breath of fresh air for people to actually take care of you."
(This story originally appeared in the Atlanta Constitution.)