Nurse Practitioner Workforce Grows 8.5%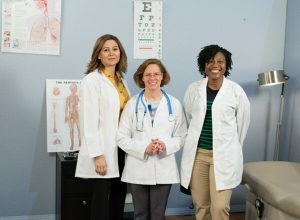 The shortage of nurses and other healthcare professionals has made the industry's workforce landscape challenging for several years now, but good news was delivered this week by the American Association of Nurse Practitioners, which released data showing that the ranks of NPs has grown 8.5% over last year.
According to the organization's numbers, there were about 355,000 practicing NPs nationally in 2022. In 2023, that number grew to 385,000. The data was released during National Nurse Practitioner Week.
WHAT'S THE IMPACT
In every state, NPs assess patients, order and interpret tests, make diagnoses and provide treatment – including prescribing medications. NPs can be found in clinics, hospitals, emergency rooms, urgent care centers, nursing homes and private practices.
AANP said that, as clinicians who blend clinical expertise with an added emphasis on health management, NPs bring a "comprehensive perspective" to healthcare and are the provider of choice for millions of patients in more than 1 billion health visits each year.
This year, U.S News & World Report ranked the NP role first on its "2023 Best Jobs That Help People" list and also first on its "2023 Best Health Care Jobs" list. Additionally, elected leaders – including U.S. governors – are honoring NPs and proclaiming Nov. 12-18 as NP Week in their states, districts and jurisdictions.
In a statement, Oregon Governor Tina Kotek said nurse practitioners "demonstrate unwavering dedication to patient care, often working in underserved communities and rural areas, and NPs are committed to improving health care outcomes, enhancing the patient experience, ending health disparities and combating systemic racism in healthcare."
South Carolina Governor Henry McMaster echoed that sentiment in his own statement, saying that in addition to clinical services, "NPs focus on health promotion, disease prevention, education and counseling, helping guide patients to make smarter health and lifestyle choices."
According to the Bureau of Labor Statistics, nurse practitioner is the fastest-growing job in the country, and the profession is projected to grow 45% by 2032.
THE LARGER TREND
Moody's Investors Service this month revised its 2024 outlook for the not-for-profit and public healthcare sector to stable from negative, driven in large part by a decrease in labor costs. While hospitals will continue to grapple with high expenses because of a shortage of skilled labor, particularly nurses, Moody's predicts that the growth in expenses will slow as hospitals make greater efforts to recruit and retain full-time staff, partly through providing expanded benefit packages.
This summer, the Health Resources and Services Administration, an agency of the Department of Health and Human Services, awarded more than $100 million to train nurses to grow the workforce.
The investments will address the increasing demand for registered nurses, nurse practitioners, certified nurse midwives and nurse faculty, HHS said.
The staffing and skills shortages in healthcare continue as inflation pressures mount, while roles focused on mental health are among the top 50 healthcare jobs in the U.S. The most in-demand position is that of a nurse, advertising 437,168 vacancies in June, followed by nursing assistant (104,275 jobs) and specialized physician (55,378 jobs), according to research from job search engine Adzuna. Compared to a year ago, nursing vacancies have skyrocketed, growing as much as 351%.
In August, Optum partnered with accredited online university Capella University on a new educational program designed to address the growing need for skilled, advanced practice nurses. Optum, the health services arm of UnitedHealth Group, plans on pairing its clinical expertise and sites of care with Capella's educational capabilities.
This article originally appeared in Healthcare Finance News.