Nurse Emeritus Program Re-Engages Retired Nurses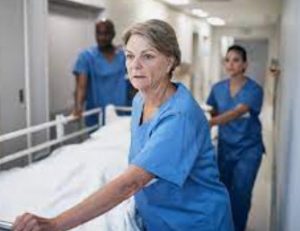 Jefferson Health is re-engaging retired nurses to support its nurses and care teams as they struggle with staffing shortages.
The Nurse Emeritus Program provides the opportunity for experienced, retired nurses to engage with, support, and mentor nurses, nursing teams and new leaders across Jefferson Health's 18 hospitals in southeastern Pennsylvania and southern New Jersey.
The new program offers three roles for retired nurses:
Emeritus clinical nurses work at the bedside, are engaged in direct care, and support and mentor clinical nurses, including new-to-practice nurses.
Emeritus specialty nurses—educators, informatics, etc.—work at the bedside or within the department of nursing, complete staff and patient education projects, inform evidence-based practice, and support bedside learning.
Emeritus nurse leaders work at the department, regional, or health system-level on special projects to drive nursing workforce and practice strategy and to support and mentor new nurse leaders.
The program includes inpatient, ambulatory, and surgical service settings and a nurse emeritus has the choice of working on the unit they were formerly assigned to or another area of interest with similar skill sets, according to Jefferson Health.
"This program is part of a comprehensive nursing workforce optimization strategy," said Kate FitzPatrick, DNP, RN, NEA-BC, FAAN, executive vice president/Connelly Foundation chief nurse executive officer at Jefferson Health.
"Our goal is to bring innovative approaches to support our nurses and care teams during this time of global workforce challenges in healthcare," she said.
The program, first launched in November, recently added its first emeritus nurse leader—AnnMarie Papa, DNP, RN, CEN, NE-BC, FAEN, FAAN, previously vice president and chief nursing officer for Einstein Medical Center Montgomery in East Norriton, Pennsylvania.
"Nursing has always been more than a career; it is truly my passion," Papa said. "Through the years, I've been fortunate to learn and grow from seasoned nurse colleagues. I'm excited to continue doing what I love while also being able to support the next generation of nurses."
The Nurse Emeritus Program is a key initiative to help Jefferson Health's nurses also learn and grow from seasoned nurses, FitzPatrick said.
"As nurses retire, we are losing a wealth of knowledge, clinical expertise and strategic leadership," she said. "This is a wonderful opportunity to sustain important knowledge and expertise at Jefferson and support nurses across our organization."
KEY TAKEAWAYS
The Nurse Emeritus Program, part of workforce optimization, also helps nurses learn from seasoned nurses.
The new program offers roles for retired clinical nurses, specialty nurses, and nurse leaders.
The first emeritus nurse leader recently joined the program.
(This story originally appeared in Health Leaders.)