NJSNA's Dr. Cynthia Samuel Chosen for ANA's Commission on Racism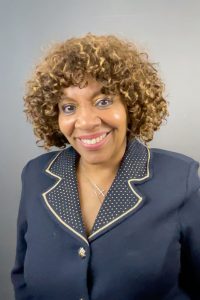 The New Jersey State Nurses Association (NJSNA) announced today that member Dr. Cynthia Samuel, PhD, RN, CSN-NJ, has been appointed to the American Nurses Association (ANA)'s Commission on Racism.
As a health equity innovation strategist, Dr. Samuel's work addresses racial and social injustice and how it impacts disparities in health care with evidence-based solutions and partnerships that ensure equitable outcomes.
"We are proud to have Dr. Cynthia Samuel on ANA's Commission on Racism, giving voice to the inequities that exist in health care as well as the solutions," said NJSNA President Sandra Foley, DNP, MSN, RN.
"Addressing the current state of nursing that the pandemic has amplified is paramount, such as finding ways to relieve the burden of the current staffing shortages," said Foley, who has earned her Doctor of Nursing Practice degree from William Paterson University, where she teaches. "I am also grateful to be in this position to collaborate and connect with all nurses across the state to drive nursing diversity, equity and inclusion, as well as ensure that all nurses are aware of NJSNA's advocacy to influence legislation, which in turn promotes nurse and consumer-focused issues."
"With more than 35 years in the field of nursing, I bring passion for advocacy in the areas of physical and mental health, and the desire to revolutionize how nurses are seen and heard into an overarching mission," Dr. Samuel said. "I am a voice for the voiceless, committed to next-level change in how the medical community respects and supports diversity, equity and inclusion in nursing."
With her two-year term on the Commission on Racism, Dr. Samuel plans to develop and assist in funding options for programming that addresses racism in nursing in the workplace and advocates for work related to systematic racism, while advancing nursing education, practice and research with emphasis on leadership.
Dr. Samuel's work has addressed the multifactorial challenges that impact the nursing community, illuminating systematic inequities that result in burnout, lack of retention and diminished growth and effectiveness by collaborating with leaders both inside and outside the health care industry to create change through education practices, policy, mentorship and research.
In addition to serving as a school nurse in northern New Jersey, Dr. Samuel is a member of the Dean School of Health and Medical Sciences Diversity, Equity, Inclusion and Social Justice Steering Committee at Seton Hall University; a Diversity, Equity and Inclusion Task Force Member for the National Association of School Nurses and Standards and Practice Co-Chair and Executive Board Member for NJSNA.
About NJSNA
NJSNA, established in 1901, is a constituent member of the American Nurses Association. The NJSNA represents the interests of more than 173,000 registered nurses and advanced practice nurses as an advocate for the nursing profession. NJSNA's lobbying arm continues to protect the nursing profession through legislative victories. Its nonprofit foundation, the Institute For Nursing, helps nurses further their careers by providing continuing education, scholarships and research grants, in addition to invaluable networking opportunities. For more information, visit www.njsna.org, contact NJSNA at njsna@njsna.org, or call 609-883-5335.