NJSNA President Sandra Foley Wins Nurse of Year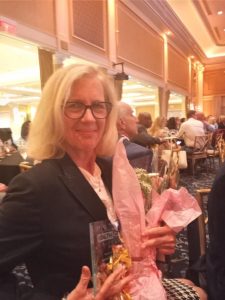 NJSNA President Sandra Foley was named this week Nurse of the Year as part of the 2023 NJBIZ Health Care Heroes awards. She has 33 years of specialized experience in the acute clinical care hospital emergency department. Sandra currently leads the Nursing Coalition, a diverse group of nurse leaders that discuss pertinent issues affecting the nursing profession. She also has a full-time position in the Nursing Department at William Patterson University.
In her own words, Foley answered the following questions from NJBIZ:
In what way have you gone above and beyond the call of duty within your organization or community?
"During the pandemic, New Jersey hospitals mandated a cap of five nursing students per clinical day while the remaining students remained at home. I co-created and instituted an at-home-bedside clinical care hybrid model to ensure the students were adequately prepared for practice."
What health care heroes have inspired you in your own career?
"During my professional journey, I've had the privilege of knowing nursing acquaintances, coworkers and mentors who motivated me to pursue excellence, follow my dreams and take alternate routes. These health care champions inspire and empower all of us, and I'd like to express my heartfelt gratitude for their outstanding contributions and for positively changing the lives of those around them."
If you had to choose another career, what would it be?
"I am passionate about my career in nursing as it's the only path that I can envision myself taking. Nursing is a gratifying profession that brings immense satisfaction. Presently, as a nurse educator and the President of the New Jersey State Nurses Association, I strive to positively impact the lives of aspiring nurses and registered nurses in NJ."